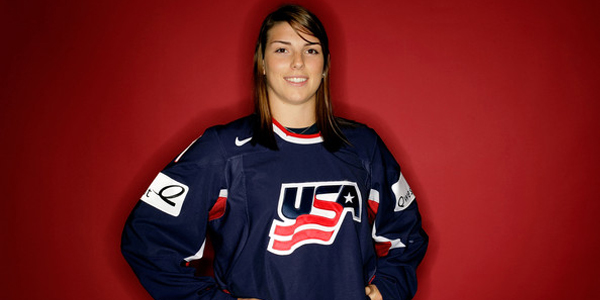 Knight makes national team, world hockey finals begin
USA Hockey based in Colorado Springs, Colo. announced on Saturday, March 30 the 23-player roster for the U.S. Women's National Team that will represent the country in the 2013 International Ice Hockey Federation (IIHF) Women's World Championship at Ottawa, Ontario, Canada, from April 2-9.
The U.S. roster is made up of three goaltenders, seven defensemen and 13 forwards. There are a total of 10 Olympians on the squad, including three-time Olympian Julie Chu (Fairfield, Ct.).
One of the selections was Hilary Knight, 23, of Sun Valley, this year's Canadian Women's Hockey League Most Valuable Player who starred on the league champion Boston Blades team.
"With the depth of the talent pool in our country, it's always a challenge to settle on a final roster and this year was no different," said Reagan Carey, director of women's hockey for USA Hockey and also the general manager of the 2013 U.S. Women's National Team. "We're excited about the group of players we've selected and are confident that Coach Stone has the team focused and prepared to compete for the gold medal in Ottawa."
The U.S. squad was chosen following a selection camp that began March 25 in Lake Placid, N.Y., and included 28 players. The U.S. Women's National Team has been training at the Olympic Training Center in Lake Placid and left Sunday, March 31 for Ottawa.
Thirteen members of Team USA played NCAA Division I women's ice hockey during the 2012-13 season, with nine participating in the 2013 NCAA tournament. Five of those nine players advanced to the Women's Frozen Four and four captured the national title as part of the University of Minnesota.
Eight players on the newly-named national team competed in the Canadian Women's Hockey League with seven including Knight winning the Clarkson Cup with the Boston Blades.
This year's goalies are Brianne McLaughlin, Alex Rigsby and Jessie Vetter. The defensemen are Kacey Bellamy, Megan Bozek, Lisa Chesson, Gigi Marvin, Michelle Picard, Anne Schleper and Lee Stecklein.
Besides Knight, the forwards are Alex Carpenter, Julie Chu, Kendall Coyne, Brianna Decker, Meghan Duggan, Sarah Erickson, Lyndsey Fry, Amanda Kessel, Jocelyne Lamoureux, Monique Lamoureux, Jen Schoulis and Kelley Steadman.
In the Group A preliminary round, Team USA plays Canada Tuesday, April 2 at 5:30 p.m. Mountain Time, Finland on April 3 at 1:30 p.m. Mountain Time and Switzerland on April 5 at 1:30 p.m. Mountain Time.
Quarterfinals and semi-finals are April 6 and 8, with the bronze medal and gold medal game April 9 at 5:30 p.m. Last April, Team Canada won its 10th IIHA world gold medal 5-4 in overtime over three-time gold medalist Team USA, at Burlington, Vt.
The teams in Group A are Canada, USA, Switzerland and Finland. The Group B teams are Sweden, Russia, Germany and Czech Republic. Last year at worlds in Vermont, the Swiss beat Finland 6-2 in the bronze medal game.
Fans have multiple ways to follow the U.S. Women's National Team at the 2013 IIHF Women's World Championship. FASTHockey has live streaming coverage of all Team USA games. Also, all can join in the conversation on Twitter by going to @USAHockey and using the hashtag #2013WWC.
NOTES—Members of the U.S. Women's National Team range in age from 18-31. Lee Stecklein is the youngest player, while Julie Chu is the oldest … Team USA has won four gold medals and 10 silvers in the 14 previous IIHF Women's World Championships. The U.S. has won four of the last six world championships (2005, 2008, 2009, 2011) …Katey Stone, head coach of the women's ice hockey team at Harvard University is serving as the head coach of the U.S. Women's National Team … Joining Stone as assistant coaches are Hilary Witt and Bobby Jay … Robb Stauber is serving as the goaltending coach and scout, while Bret Hedican is the video coach.
By: JEFF CORDES
To read the article, please click here.
Source:Idaho Mountain Express
Posted on: April 2, 2013