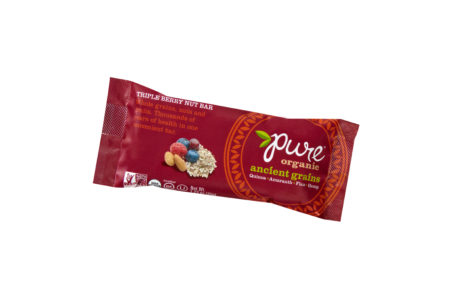 News and Trends from Expo West
Wrapping up our coverage of this year's Expo West in Anaheim, here are some highlights of notable product trends and other news of interest to the gluten-free community:
Justin's, makers of a line of gluten-free nut butters and confectionary items, earned the distinction of being the only food company to win a Best of West Press award for their launch of individually wrapped Dark Chocolate Peanut Butter Cups (previously available only in double packs). The new single-serve cups are organic, vegan, gluten free, Rainforest Alliance certified and contain only 100 calories each. They will hit store shelves beginning today at a suggested retail price of 99 cents each.
Many of the big product trends from last year carried over into this year's show. Foods catering to the vegan market, such asVictoria Fine Foods' cashew-based Alfredo sauces and Daiya's line of dairy-free spreads, slices and pizzas, remained extremely popular, as did items incorporating ancient grains, such as Pure Bar's Ancient Grains bars,Bob's Red Mill's line of ancient grain flours and Udi's new line of snack crisps and bars.
Probiotic and functional beverages were also big this year, as were fermented foods. Also popular were products suitable for children that incorporate healthy fruits and vegetables in appealing ways, such as Ruby's Rockets' new fruit- and veggie-based popsicles and Pure Bar's new Fruit & Veggie Strips and Fruit Sandwiches.
Taste trends saw a number of notable companies combine sweet with heat, as evidenced in products such as Taste Nirvana's new Real Coconut Water with Thai Chili Extract and KIND Snacks' new Dark Chocolate Chili Almond bar.
Raw, dehydrated vegetable products continued to be popular as well, with Rhythm Superfoodsadding two new kale chip flavors to their existing line, Brad's Raw Foods unveiling a line of dehydrated onion rings, and Alive & Radiant Superfoods showcasing their three Veggie Krunch products.
The trend toward items that boasted non-GMO ingredients or non-GMO verified status remained strong as well, bolstered by Whole Foods Market's announcement that they will require all products containing genetically modified organisms in their North American stores to be clearly labeled within five years.
For more information on Pure Bar, please click here.
Source: Examiner.com
Posted on: April 2, 2013