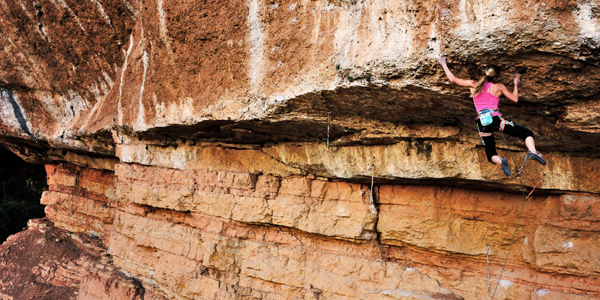 Sasha Digiulian Climbs Two 5.14b's In A Day
Now in her second semester at Columbia University, Sasha has had less time to focus on climbing but it hasn't seemed to inhibit her ability. She just returned from a whirlwind spring break trip to Spain where she was able to climb two 8c (5.14b) routes in a day. She writes on her blog:
"I climbed a total of five days while in Spain- all the days I was there except for one rest day after the first two days of climbing in order to rest off the jet lag. The first days after a flight and after not climbing outside (or not too much climbing at all actually due to midterm exams) are generally my adjustment days where I feel a little weak and tired. I don't stress this so much because I've learned that it is quite normal. Having a tight schedule makes this difficult because more often than not I will be jet-lagged during my short time-framed trips; however, I adjusted in to the rhythm and had a great day following my rest. I sent two 8c's in one day, one of them being on my first try, and then I onsighted a satisfying amount of pitches at an area I had never climbed at – Terradets."
The two 8c routes were at Oliana. She commented on 8a.nu regarding her first try ascent of Los Humildes pa Casa, "Retro Flash – first try of the trip but I put draws up on it before! Simply magical, one of the best routes I've ever climbed." The other 8c was the classic Fish Eye. Sasha went on to onsight Tirabolts (5.13c), and two other 5.13a's at Terradets.
For more on this story, please click here.
Source: www.dpmclimbing.com
Posted on: April 2, 2013