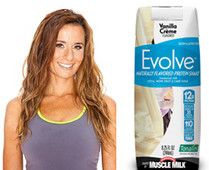 Jennifer Cohen Dishes on her Favorite Protein-Packed Snack
Personal trainer Jennifer Cohen has teamed up with the makers of Evolve to offer healthy living tips, so we picked her brain the other day.
If you're not familiar with Evolve, it's a 110-calorie ready-to-drink protein shake that's naturally sweetened and comes in five flavors — strawberry, chocolate, vanilla, cafe latte and mixed berry. The drink, from the makers of Muscle Milk, has 12 grams of protein and also contains conjugated linoleic acid, or CLA, which is a fatty acid found in beef and dairy products, particularly from grass-fed cattle. It has been shown to help decrease body fat while retaining lean body mass during weight loss. Evolve uses the Tonalin brand of CLA.
We talked with Cohen about Evolve and other snack ideas.
Q. How does protein help with weight loss?
A. Protein is what builds and sustains your muscles, which burn more calories than any other tissue in the body. Protein also helps regulate insulin and leptin, hormones that regulate your body's energy and whether you feel hungry. Protein drinks help me stay fueled throughout the day.
Q. What are your favorite sweet snacks and your favorite salty snacks?
A. For a sweet snack, I always have a chocolate Evolve on hand. Evolve is sweetened with stevia, monk fruit and cane sugar offering the perfect solution for when you get that sweet tooth. For a salty snack, hearts of palm really satisfy, and a whole can is usually under 100 calories.
Q. How do regularly scheduled snacks help with weight loss?
A. Eating smaller portions of food throughout the day, like small meals and frequent snacks, keep your metabolism burning. Your body can't process 600 calories at once the same way it can process 400 calories now, and 200 two hours later. Just make sure your snacks still fit in to your daily calorie limit.
For more information on Evolve, please click here.
Source: Examiner.com
Posted on: April 3, 2013