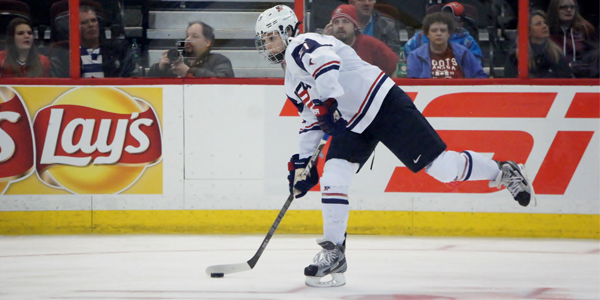 U.S. gets payback, gold against Canada
OTTAWA, Ontario — Call it sweet revenge.
Amanda Kessel scored the game-winner as the United States defeated Canada 3-2 for the gold medal at the IIHF Hockey Women's World Championship on Tuesday.
Canada had defeated the U.S. last year in Burlington, Vt., and this time around, it was the U.S. breaking Canadian hockey hearts with a win.
"It's an unbelievable feeling, I couldn't feel any better," Kessel said. "I definitely feel like it's revenge. We got beat on our home soil last year and to come into Canada and win the gold medal is unbelievable.
Despite the disappointment of watching Canada lose, women's hockey scored a huge victory as the 13,776 at SBP Arena were witness to a physical, hard fought, exciting game. This was undoubtedly the best game of the tournament, as was to be expected from the two best hockey nations in the world.
Brianna Decker and Megan Bozek also scored for the U.S., while goaltender Jessie Vetter stopped 14 shots.
Courtney Birchard and Caroline Ouellette scored for Canada. Shannon Szabados faced 30 U.S. shots.
Tied 2-2 to start the third, Kessel gave the U.S. a 3-2 lead at 43:05. Kessel, younger sister to Toronto Maple Leafs player Phil Kessel, came down the wing and released a great wrist shot that snuck in just under the crossbar.
"When we scored, it just went silent and there's no better feeling," Kessel said.
With time winding down, the Canadians pressed for the equalizer, but the U.S. did a great job shutting Canada down and Vetter was solid.
Canada gave full credit to the U.S.
Sixteen shots isn't enough to beat a good team and a good goaltender," Canadian coach Dan Church said. "I felt they were the better team in almost every aspect of the game and I have to give them full credit. We have to figure out why we weren't ready to play [Tuesday night]."
Momentum shifted in favor of the U.S in the second period with goals from Decker and Bozek, but a late power-play goal by Canada had the teams tied 2-2 after 40 minutes.
The Americans' speed caused fits for the Canadians, who seemed to have no answer for the play of the speedy forwards.
"Part of speed is decision-making and I felt we were on our heels with our decision-making," Church said. "They kept the game pretty simple early on. If they didn't have a pass they were smart and just chipped it in the neutral zone and put pressure on our defenders and worked harder in transition.
"We weren't thinking and moving at the same time. We were reacting, and they were acting."
Decker tied the game early in the second as she showed great patience and beat Szabados glove side.
Canada then got into penalty trouble, taking four unanswered minor penalties. The U.S. took capitalized, scoring on a two-man advantage as Wakefield scored through traffic to take the lead and quiet the crowd.
"We got a goal in the second period so we felt pretty good about it, but only having two shots and getting into penalty trouble, it's hard to dig out of a hole in a game like this," Canada's Jayna Hefford said.
U.S. coach Katey Stone looked at her team's play in the second period as a defining moment in the game.
"It empowered them and made them believe and they kept that pace for the rest of the game," Stone said. "We had a lot of pressure on them all night and got some quality shots on their net and made it difficult to play against."
Canada got the crowd back into it after Ouellette scored, on the power play, from just inside the blue line as Vetter had little chance with a crowd in front.
Canada held a 1-0 lead after 20 minutes as Birchard, from just inside the blue line, beat a surprised Vetter midway through the period.
Canada had a number of good chances to start the game, but Vetter was solid.
Both teams look at this game as a building block heading into the 2014 Winter Olympics in Socchi, Russia, but for the U.S., the next 10 months will be a lot easier to get through after winning the gold here.
"There's no better way to get experience than to play on a stage like this," Stone said. "Our veterans were there for us and our young players stepped up, so a good night and a great future ahead for USA Hockey."
Canadian veteran Hefford admitted the loss would stick with players for a long time.
"It's a moment we're going to have to think about for the next 10 months and hopefully use it as motivation. It's as simple as that."
For more on this story, please click here.
Source: www.espnw.com
Posted on: April 10, 2013