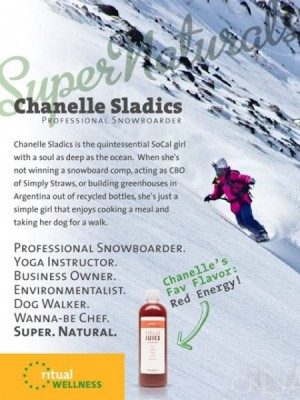 Pro Snowboarder Chanelle Sladics Named Environmental Ambassador For Ritual Wellness
PROFESSIONAL SNOWBOARDER CHANELLE SLADICS NAMED RITUAL JUICEBOX'S APRIL AMBASSADOR
COSTA MESA, CALIF. (April 2013) – Ritual Wellness is excited to announce professional snowboarder, wellness enthusiast, and environmental activist, Chanelle Sladics as the April Ambassador for its retail store, Ritual JuiceBox located at The Camp in Costa Mesa.
In honor of Earth Day and their commitment to our planet, Ritual Wellness and Sladics are partnering on numerous eco-friendly efforts from repurposing used plastic Ritual Juice bottles and promoting the use of glass straws, to supporting the Non-GMO project. During the month of April, every time a Red Energy (also called Pre-Shred) is purchased at Ritual JuiceBox, 10% of the sale will go directly into the company and Sladics' support of the Non-GMO Project through certifying all Ritual Wellness products.
"I always aim to support Non-GMO products, as those are the companies helping us protect original seeds and are having the courage to stand up against the dangerous GMO's seeds and owners," said Sladics. "Many organically sourced products haven't raised the funds to get certified, so I want to help. We deserve to know what we are buying, and since Prop 37 didn't pass- getting Non-GMO labeled is a personal responsibility. Businesses – let's do this!"
Sladics is an avid proponent of environmental causes, and while not snowboarding, surfing or skateboarding, the Newport Beach, Calif., native is Chief Brand Officer for Simply Straws, a company that advocates decreasing landfill clutter by replacing plastic straws with glass counterparts.
As a bonus during the month of April, anyone who takes on the #pledgeagainstplasticstraws at Ritual JuiceBox, which states they'll lessen their footprint by using Simple Straws, will be given a coupon to receive a free Simply Straws glass straw – redeemable online and $1 off any 16-ounce juice of their choice.
Finally, Ritual Wellness has set up a recycled plastic bottle program at the JuiceBox, where people may donate their plastic bottles in exchange for an in store discount. Ritual Wellness will use the donated bottles to provide hands on planting classes at Newport Elementary School, encouraging kids to learn about planting and repurposing plastic.
As a bonus during the month of April, Ritual JuiceBox will be encouraging people to take on the #pledgeagainstplasticstraws, which states they'll lessen their footprint by using Simple Straws. Simply Straws glass straws will be sold at Ritual JuiceBox for $5 with the purchase of a juice. Find out more at https://simplystraws.com/win-a-free-glass-straw-for-earth-month.
Visit Ritual JuiceBox at The CAMP – 2937 Bristol Street C100-B, Costa Mesa, CA 92626 or for more information visit www.ritualwellness.com.
ABOUT RITUAL WELLNESS:
The mission of Ritual Wellness is to make superior raw and 100% organic nutritional products available to everyone. From the avid health and fitness enthusiast to the busy mom or enterprising professional, Ritual Wellness' environmentally sound products help bring balance to anyone's health regimen. Ritual Wellness products have become a favorite among celebrities and their trainers, and also hold a stamp of approval from internationally-renowned registered dietician Ashley Koff. Ritual Wellness co-founders Marra St. Clair and Lori Kenyon – both certified nutritional consultants and fitness experts – bring their knowledge to the company and its customers, and are proud to empower them to discover health and well-being through their 100% certified organic and raw vegetable and fruit juice Reset Cleanse and Ritual Juice products. For more information, visit www.ritualwellness.com.
ABOUT CHANELLE SLADICS:
Born and raised in Newport Beach, Calif., Chanelle came out looking for trouble. She started skateboarding and waterskiing at the age of two, soccer and swim team at four, and roller hockey at seven. Fast forward several years, an appearance on "The Triple Threat" – where she competed in a surf, snow, skate competition around the world with respected athletes like Shaun White, Hannah Teter, Todd Richards and Brad Gerlach – and an X Games Bronze Medal in 2007 proved her pedigree as a world-class athlete. Chanelle has become a familiar face on the podium.
For more on this story, please click here.
Source: business.transworld.net
Posted on: April 11, 2013