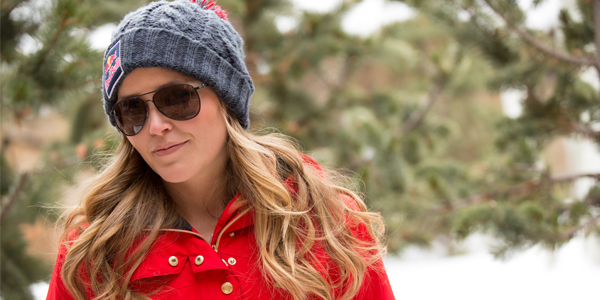 Grete Eliassen Wins Best in Action Sports
Grete Eliassen Wins Best in Action Sports
Longtime darling of women's Freeskiing, Grete Eliassen proved that her prowess extends beyond the powder-obsessed with her recent sweep of X Games' Best in Action Sports.
Up against some of action sport's most notable female athletes including snowboarder Jess Kimura, surfers Stephanie Gilmore and Coco Ho and skaters Leticia Bufoni and Mimi Knoop she progressed through each round by margins as wide as 32%.
A vocal advocate for Freeskiing and women's athletics we were so proud to see fans rally behind Grete with such fervor. Shortly after the final votes were announced we had the opportunity to catch up with Grete and get her thoughts on winning the Best in Action Sports Title.
How does it feel win Best in Action Sports?
It's pretty awesome! I still can't believe it happened. I can only thank my followers on Facebook, Twitter and Instagram. I asked them to vote in the first bracket and they were with me until the end.
In this poll you weren't just competing against other like athletes, but against athletes from a myriad of sports, what does this win mean for your sport?
It's so cool to have won in this category. Mainly because I am a Freeskier and Freeskiing is not exactly main-stream yet, but it just goes to show that people notice what we are doing in skiing and want to watch it. Freeskiing will make its Olympic debut next winter in Sochi and it could not of come at a better time. It's so cool that the Olympics are finally showcasing the type of skiing that everyone is doing on the mountain now.
What did it take to win?
It took all the support from my social-media followers. I would remind people to vote every day and they would always come through. I think the hardest bracket was the first one against snowboarder Jess Kimura. I was down in the beginning, but then I put up a link and the votes started to come in!
Anything you want to say to everyone who voted for you? To those who didn't?
Thank you so much to my followers who voted everyday, in every bracket I was in and helped me win the final. I cannot thank you enough. To those who didn't vote for me you should really start watching women's skiing. Here are some videos below to get you started…
For more on the this story, please click here.
Source: www.oakley.com
Posted on: April 16, 2013