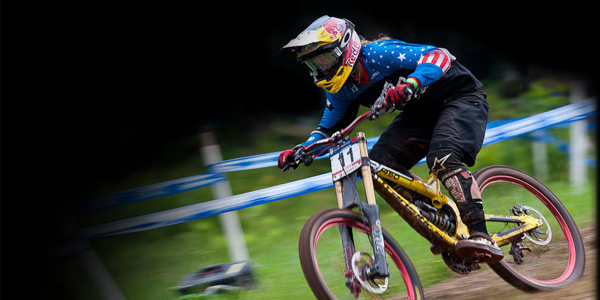 Jared Graves and Jill Kintner Win Dual Slalom – Sea Otter 2013
Sunshine and dry conditions greeted the pro Dual Slalom racers for the 2013 Sea Otter Classic. 2nd fastest qualifier, Jared Graves of Yeti Factory racing made his way into the final round by taking down all comers and took the victory with flawless racing. Jared and the Yeti Factory riders were on SB-66 bikes with a custom link that took the bikes down to 4-inches of travel.
World Cup downhill legend, Steve Peat of the Santa Cruz Syndicate, was Jared's competition in that final race. Steve Peat was racing on a Santa Cruz Bronson with 27.5-inch wheels. During qualifying, reports indicated that Peaty (and Minnaar, who was also on a Bronson) didn't seem to have that snap out of the corners that the 26-inch wheeled riders had. Looks aside, Peaty took the Bronson all the way to the finals, beating fastest qualifier, Mick Hannah, to make it through.
Jared Graves is no stranger to the Sea Otter gravity podium with a Dual Slalom win in 2011 backed up by a Downhill win that same year. Graves plans to back up his results on Sunday in the DH race.
New Zealand rider, Cam Cole (Yeti Factory Racing) took third place uncontested. His opponent in the *small final* was supposed to be Mitch Ropelato (Specialized Gravity), but Mitch never made it to the gate for racing. Some reports are saying Mitch had heat stroke, while others are reporting he hit his groin area, leaving him nauseous.
Kyle Strait (GT Bicycles), the 2012 Dual Slalom winner, qualified in 3rd place, but couldn't keep the momentum and was bested in the round of 16.
In the women's event, Jill Kintner (Norco) squared off against Rachel Atherton (GT Factory Racing). Both women looked fast and in control, but Jill was fastest over the two finals runs.
2013 Sea Otter Classic Pro Women's Dual Slalom Results
Jill Kintner
Rachel Atherton
Anneke Beerten
Luana Oliveira
2013 Sea Otter Classic Pro Men's Dual Slalom Results
Jared Graves
Steve Peat
Cam Cole
Mitch Ropelato
For more on this story, please click here.
Source: vitaltmb.com
Posted on: April 22, 2013