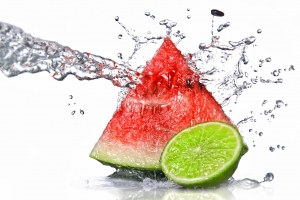 Ashley Koff's Wet Foods Recipes
Wet Water
Hydration first thing in the morning "wets" the body's metabolic engine and alkalinizes digestive tract.
Ingredients
16 oz filtered water
½ lime, sliced thinly
1/3 cup watermelon, cubed
4-5 mint leaves
optional: ¼ cup frozen organic blackberries
Directions
Pre-wash all fruits and vegetables. Pour water into large clear glass (you can use a mason jar); jar should be at least 20 oz. Add in all ingredients; stir a few times; sip and enjoy.
To learn more, please click here.
Source: Doctoroz.com
Posted on: May 1, 2013