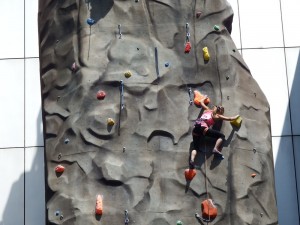 Sasha DiGiulian recaps her latest competition in Japan
Voyaging around the world has taken another level for me lately while balancing my studies at Columbia University, to the point that I am on return now from my latest weekend trip: to Japan!
While being in school, I really can't make long trips because I need to be in present for class in NYC as well, so in order to make the annual Invitational Lead Master in Osaka, Japan, I left school Thursday evening and am returning Monday morning to finish writing exams.
The international sport-climbing event went really well for me. I was pleased with my performance and my place: Silver Medal! I was honored to stand on the podium amidst Japanese victor, Jiyota, and Johanna Ernst of Austria.
Competitions can always be finicky – the outcome is contingent on such a miniscule part of a career at whole – it all comes down to one day, one climb; one mental and physical performance. I cannot control what type of route I am given or what sort of physical attributes it will include, but I can control my own preparedness and approach.
My competition approach is always changing, adapting, and evolving. Sometimes I am happy with my performance, and sometimes, like in Colorado at the competition last month, I am upset with my climbing and inability to control my nerves. A lot of competition climbing comes down to dealing with the mental approach and channeling nerves in the right direction. What I find similar to outdoor climbing is that I need to find that balance between caring and not caring – between trusting myself and being in control, but having enough freedom to open my boundaries of control and to let myself go. I perform best when I can climb freely and relaxed, while climbing with efficiency and a fiery force of drive to excel.
In my opinion, there is no such thing as a perfect competition- I will always see what I did wrong before I see my performance strengths. However, I also know that finding happiness in my successes and motivation in my failures is necessary to continue training and pushing myself in the different scopes of climbing, be it in the outdoor arena or in competitions.
Therefore, I was happy that my latest training paid off for me in Japan.
Now, I have my final exams to finish early this week, and then it is onwards to my summer adventures.
Off to STUDY!
Xx S
For more on Sasha's blog, please click here.
Source: www.sasha-digiulian.com
Posted on: May 14, 2013