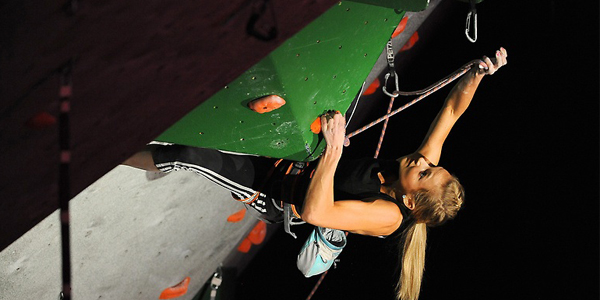 Sasha DiGiulian Takes 1st in Bouldering at the 5th Annual Dominion Riverrock
RICHMOND, VA – The 5th annual Dominion Riverrock, the nation's premier outdoor sports and river life festival, concluded this afternoon after drawing more than 50,000 spectators and 3,500 participants to Brown's Island and Historic Tredegar in Richmond, VA, for the weekend's festivities. Dominion Riverrock is the largest outdoor sports and music festival in the United States.
The country's top bouldering stars competed all weekend long in the festival's favorite sporting events, the Dominion Riverrock Boulder Bash. Climbers ascended two man-made 20-foot high and 30-foot deep bouldering cages made from metal, wood, and fiberglass (see photo).
Reigning champion Sasha DiGiulian of Alexandria, VA, captured first place for the third consecutive year on the women's side, while Jimmy Webb of Chattanooga, TN, took the crown for the second consecutive year on the men's side.
The Boulder Bash began with 12 men and 12 women competing on two routes in the Qualifying round on Friday evening. They had six minutes to climb each route with a five minute resting period between. All 12 men and all 12 women advanced to the second Qualifying round on Saturday at noon, The same 12 men and women went on to the Semifinal round, which was held on Saturday evening. The Finals consisted of eight men and eight women climbing one route each. Competitors had six minutes to complete each route.
About Dominion Riverrock
Dominion Riverrock, organized by Venture Richmond and the Sports Backers, is the nation's premier outdoor lifestyle festival, bringing athletes, spectators, musicians, and even dogs to Brown's Island for a three-day festival against the backdrop of downtown Richmond's urban riverfront. The festival features a variety of outdoor sports including trail running, kayaking, biking, bouldering, slacklining, stand up paddleboarding, and dog jumping. The event was designed to promote Richmond's unique riverfront, downtown trails and whitewater rapids to outdoor enthusiasts. As a result of the creation of Dominion Riverrock, there is a stronger appreciation for the value of outdoor recreation throughout the entire Richmond region.
For more on this story, please click here.
Source: www.dpmclimbing.com
Posted on: May 22, 2013