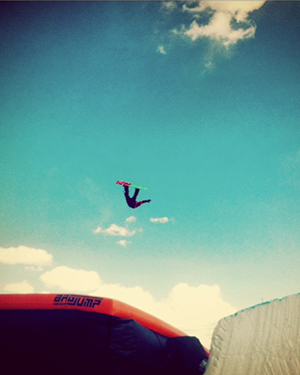 Full-Time "Snowboarder"
So the other day, I was doing an interview and was asked an interesting question. The question was "how many hours a week do you train?" Now this sounds like a pretty standard question. But I guess the reason it stumped me and then left me thinking was because snowboarding is what I do! It's not that I couldn't eventually answer the question if I really did some analyzing, but it was more that I felt like asking me how many hours a week I train is like asking a mom, "how many hours a week do you do mom things?" Even when you are without your child, you are still a mom…thinking about your child, doing things to make yourself a better mom. You're never not a mom! And that's how I feel about snowboarding.
Now I realize the question wasn't "How many hours a week are you a snowboarder?" so I guess the problem I had with the question was in the "training" part. Because what is training? In my mind training is anything you do to make yourself better at your sport. So with that being said here are all of the things I can think of that I do to train… Physically riding on the mountain and improving my skills through riding in the halfpipe and/or the park; freeriding; backcountry riding; working new tricks onto an air bag; going to the gym to balance and strengthen my body; stretching and yoga practice; reading books to help myself become a better person spiritually, mentally and physically; video review of myself and others who are doing things that I want to do; meditation; hikes and biking and all sorts of "cross training" that helps with my cardio; balance and proprioception; talks with coaches; physical therapy; massage; acupuncture; chiropractic; visualization; trampoline and snow flex foam pits; goal setting and evaluating; nutrition; rest… I'm telling you there's a lot that goes into this so-called "training" category! And that doesn't even include the sponsor side of things, which includes photo shoots for editorial and ad campaigns, collaboration on product design such as the way your equipment looks and rides and works – what I do is my life and my life is what I do, which is why I love snowboarding!
Yes we all do have lives outside of sliding around snow, but it's not compartmentalized; it's all intertwined in this awesome mix! And I think that is the difference between snowboarding and most other traditional sports – snowboarding is still a lifestyle.
The reason I say "still" a lifestyle is because snowboarding has changed since the first time it was an Olympic sport in 1998. One of the reasons it's changed is because the big mainstream companies out there saw something very attractive about this snowboarding lifestyle and wanted to be a part of it. That meant dollars going to snowboarders who could then focus totally on snowboarding alone. So the top snowboarders that you see out there now are snowboarders full-time.
And maybe that is a common misconception of snowboarding that needs to be cleared up? The common misconception is that snowboarders are part-time and a lot of snowboarders are part-time. The lucky few at the top of the game, that is what they do, they snowboard 24 hours a day. So when the media asks "should there be restrictions on snowboarding" and other questions asked because of the serious injuries that Kevin Pearce sustained and the tragic loss of freeskier Sarah Burke, the answer is a resounding 'NO.' I believe that question is coming from someone who doesn't grasp everything that goes into that final product that is X Games finals or the Olympics.
I just finished up a two-week U.S. Snowboarding training camp. Before this camp, I spent the entire month of April snowboarding (photo shoots, sponsor event, freeriding and training). And before April we had competition season, which is December through March. I'll be spending my whole month of July snowboarding at Mount Hood, Ore., and then the whole month of August in the Southern Hemisphere (Argentina), photo shoots with Oakley, and then straight to New Zealand with the U.S. team for training and the first World Cup of the season. After that I'll have a few weeks in Carlsbad, Calif., where I train in the gym and enjoy road biking, surfing and yoga. Then it'll be off to New Zealand again for their spring camps. The last half of October and the first half of November is when I'm really making sure that I am as strong as I can be heading into the contest season so I'm in the gym almost every day. And then it's back on snow to get ready for the first events of the season again!
So that is what a typical year looks like in the life of a pro snowboarder and the whole year, whether I'm on the snow or not, I'm doing a lot of those "training" things I mentioned above. So you see, there is SOOO much that goes into that final product. Snowboarding has become a year-round sport where all of the top riders are constantly learning and pushing themselves to new heights but it's done step by step, day by day, month by month, year by year. And that is why when people ask me about restricting what should be allowed to be done in a halfpipe competition, I say that the people who are doing the most technical tricks out there have spent countless hours preparing themselves for those tricks. This is not a huck fest. The behind-the-scenes of those tricks and of that final product is heavy and in depth. Would you tell a weightlifter to stop lifting weight? Would you tell a marathon runner to stop running so far? Would you ask a diver not to dive off something so high? No. There are inherent risks in every sport. And we train for those risks.
For more on this story, please click here.
Source: teamusa.org
Posted on: May 29, 2013