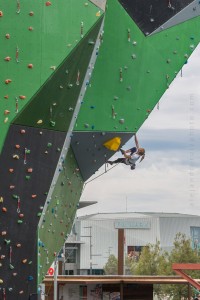 Rollin' to Rodellar
HOLA de Espana!
Back again in Spain, I can honestly admit that I cannot get enough of this country. I love the culture, the landscape, the way of life, and last but certainly not least, THE ROCK!
The main difference between climbing in Europe and climbing in the US is the concentration of difficult climbs in each area. The US has some amazing places to climb, but the amazing thing about Spain, in particular the Cataluna Region of Spain, is that there are so many world-class challenging routes in a wide variety of areas all within less than a 2-hour driving radius from each other.
Before coming to Rodellar, I was first in Zaragoza, Spain for an event with EntrePrises at Dock39 – an incredible outdoor adventure center, then in Riglos with Adidas. In Riglos, I went kayaking and mutli-pitch climbing, along with hanging out with fellow Team Adidas Athletes and Employees. Following Riglos, I traveled with fellow Team Adidas Climbers and Spanish "Strong Men!" Dani Moreno and Alberto "Beto" Rocasolano to Margalef for two days where I did a few onsight routes, then I went to Huesca with Dani to train and to climb outside at two nearby climbing areas the following week.
hen, for the weekend I went to Gijon, Spain for the Spanish Championship. This was the 4th competition in a row for me that went very well… I won
Yay!
The routes were really well set and I enjoyed the energetic crowd! The wall was outdoors in the City Center Plaza so there were a lot of people in the audience as well! There were two rounds of competition on Saturday – first the Semifinals and then the Finals in the evening. Semifinals were flash format in which I was tied for first after finishing the route along with three other women. Then, the Finals round was an onsight round in which we had a preview for six minutes, then eight minutes to climb the route.
Ramon Julian Publique (Spanish and World Champion) and I were the only ones to reach the top of our respective routes (male and female) and therefore, I won for the women, and Ramon (always IMPRESSIVE!) won for the men!
Now I have just arrived to Rodellar where I will climb outside for my final week. Unfortunately, the forecast is quite grim. Today it has been raining all day. Tomorrow I will climb in the big cave at Las Ventanas, so hopefully everything has stayed dry. Maybe the rain will stop, too!
Fingers Crossed for Buen Tiempo!
For additional images and the complete story, please click here.
Source: sasha-digiulian.com
Posted on: June 26, 2013