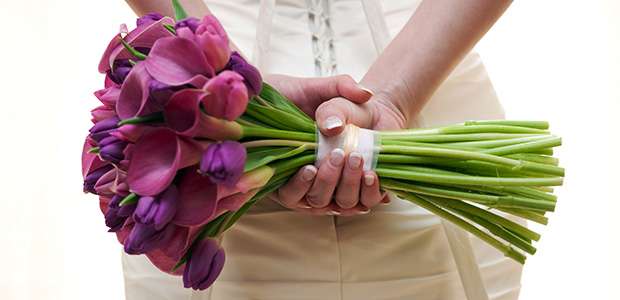 It's not about a wedding weight loss: how to start a marriage in health
Whether you're dreaming of a wedding, prepping for a wedding, wrapping up a wedding or remembering your wedding with fondness, you're probably familiar with traditional wedding vows, "For better or worse, for richer or poorer, in sickness and health, to love and to cherish, until we are parted by death…"
This week I celebrate my 10th wedding anniversary. I was married at the age of 21. I had the perfect mix of confidence and naivety, arrogance and hope. I knew there would be trials without having any true insight into what those trials could be. That was a blessing. From job loss and foreclosure to cross-country moves and depression, "Struggle" could have been our last name. We've come through these trials (mostly) unscathed, and I strongly believe it's because one of the foundations on which we laid our marriage was health. We've used our health as a compass to guide major decisions — when a "dream job" led to an unshakable depression, my health was the reason I quit, even though we needed the money. When our location made outdoor workouts undesirable, it helped spur our decision to move. These are extreme examples, but they're a picture of how we function as a couple and how together, we make sure to prioritize our health.
And truthfully, starting a marriage with physical fitness as a foundation is incredibly empowering. Not only does exercise make you feel and look better, it also reduces stress, staves of major illness, improves sex life and boosts mood. And really, who doesn't want to be married to a hot, confident, happy, healthy sex goddess?
If there's one thing I've learned in my marriage, though, it's that I don't have all the answers. That's why I turned to fitness expert Jennifer Cohen (former trainer for the CW's Shedding for the Wedding and regular contributor on shows likeExtra and Good Morning America) to get her tips on starting a marriage in health.
Girls Gone Sporty: So many women try to lose weight for the wedding, only to gain it shortly thereafter. How can brides and grooms shift the focus from wedding weight loss to starting a marriage in health?
Jennifer Cohen: When you're approaching a wedding, it's natural to want to look your best, but the changes you make should be more about achieving a healthy lifestyle than just about reaching a particular size by a particular date. An event like a wedding is a goal to work toward, but you need to make a plan, a progression, to keep following through after your wedding comes and goes.
Girls Gone Sporty: What are your tips for making lifestyle changes, rather than event-specific changes?
Jennifer Cohen: Start small as opposed to grandiose. Large goals can result in failure when they're paired with unrealistic training or lifestyle expectations. For instance, if you haven't been working out consistently, and you suddenly decide you're going to run a marathon, the reality is you'll need to train long and hard to reach that goal. You may just not be ready for that. Instead of setting your sites on a marathon, start with a 5k. Smaller, more realistic goals are paired with more realistic training. Start with 30 minutes of exercise daily and build that into your routine. When I see results that have longevity, it's when they're paired with with small wins. Small wins along the way give people something to celebrate and look forward to.
Also, it's really important that people choose activities that they like to do. It would be silly and fruitless for me to say "Take up tennis" when a client hates sports.
Girls Gone Sporty: How can couples come together to make health a priority together?
Jennifer Cohen: People adopt other people's habits, good or bad. It's incredibly important to start out on the healthiest note possible. Starting a routine together is important. Find something you enjoy doing together. Rather than just going to the gym together, which can get monotonous and boring, try taking up or doing an activity. Instead of always going to the movies or out to dinner, sub in active dates that can benefit your health. You can do one-time dates, like going climbing at a rock gym or taking a stand up paddle class, or you can choose something you have to train for together, like a mud run.
I also suggest that couples choose a new activity to take up together every six weeks, alternating who gets to choose the activity. So maybe when it's the guy's turn, he suggests they train for an adventure race together, and when the girl gets to choose, she decides they'll take up salsa dancing. The only rule is that whatever one person chooses, the other has to do! This helps keep things fresh, gives you something new to do together and helps bond you as a couple. It's very easy to get stuck in a rut. People joke about the freshman 15 and the newlywed 20. The truth is it's so much easier to do nothing than do something, so planning in advance to take up something new every six weeks will help you get, and stay, on course from the start.
Girls Gone Sporty: Do you have any other fun activity ideas?
Jennifer Cohen: Dance classes are a great one. My husband and I started doing hip hop classes together when I enrolled us in a hip hop dance contest, a hip hop challenge. It ended up being really fun. Put yourself in a situation where you never thought you'd enjoy it — you're both not good — you're both learning something new. If you know you're in a dance competition and you both have two left feet, you'll both be in it to improve and you'll have the chance to laugh and get better, together.
Girls Gone Sporty: We joke about when "the honeymoon's over" in marriage, but the truth is, the same thing happens with fitness. Eventually, fitness can become boring, even for the most dedicated couples. What tips do you have when the fitness honeymoon is over?
Jennifer Cohen: Just like in marriage, having the health commitment together means that you can push each other and lift each other up when one of you gets down. When you're motivating each other, it helps with the boredom factor and the plateau factor. That's basically what makes people less interested in continuing a program. Having each other, it gives you accountability and pushes you so the other person can help. When what you're doing gets dry, try getting involved in your community — find out what's going on. Whether it's a local race or you decide to join a cycling club or a master's swim team, seeking out others in the community who also hold your values will help get you past that dry spell. Plus, it'll help you find other couples and friends who also value fitness.
Girls Gone Sporty: We've talked fitness, but what about nutrition?
Jennifer Cohen: It's much easier than people thing to eat well and healthy. Planning ahead is really important. Having things around you that are easily accessible, like fruit, cheese sticks, bars and the like. I always have an Evolve drinkin my fridge and bag so that I never have an excuse to skip meals. Look for products, like Evolve, that have a good mix of protein, carbs, vitamins and minerals to help keep you full without overloading on calories.
The truth is, it's as easy to buy a head of lettuce as it is to buy cookies. Same thing when it comes to buying a Big Mac or a chicken breast. As a couple, you guys should say, "Saturday night is our day to splurge and eat what we want, but during the week, we're going to make healthy choices. When we go out to dinners, we'll keep ourselves accountable."
---
How do you stay fit and active with your significant other?
Source: Girls Gone Sporty
Posted on: July 3, 2013