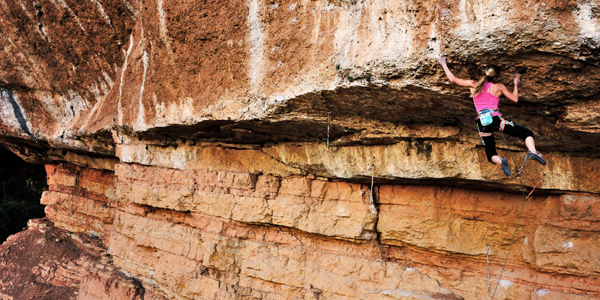 This is AfriKa
First time, love at first sight! Africa is exotic, welcoming, and free. I feel so fortunate to be able to travel here and I am so appreciative to everyone making my trip so great!
On July 2 I traveled to Johannesburg with 3StringsProductions – Keith Ladzinski and Andy Mann and Arjan de Kock of South Africa. Our agenda was to climb at Waterfall Bovcn – South Africa's gem for sport climbing. This climbing location is easily world class. Located outside of JoBurg, the landscape is filled with rolling hills, trickling mountain streams, and immense cliff faces. The rock is a red and black streaked bullet-sandstone. The climbing is technical, physical, and proud. It includes cracks, daunting vertical faces, and thin edges.
I spent my first day at Waterfall Bovcn accustoming myself to the style of rock climbing there. I onsighted and flashed a couple routes including "The Beast," an 8a+ (5.13c), and "Monster," a 7c+ (5.13a), and "Jack of All Trades," 8a (5.13b). Not wasting time, the next day I was quick to find a hard project to settle in to. While climbing at the "God No" sector of Waterfall Boven I came across this proud and intimidating blank face that was striking. There was no chalk but the rock jutted out from the Cliffside, asking to be climbed. I was climbing with Arjan de Kock and we looked for the route in the guidebook, contacted some locals, and found out that indeed, it was a pure line that had not seen any ascent. Originally bolted by Andrew Pedley in 2008, it stood as the "Overlord Project."
With this aesthetic line in front of me, it would be a shame not to try it. So, I got the draws together, lapis brushes and chalk out, and ventured up the unknown line. Working on a project is always like putting a jigsaw puzzle together – figuring out how pieces fit in order to form a unified whole. I had never been through the process of trying the unknown, though. This process of finding out if something truly was possible was new and exciting. As Arjan and I chalked up the holds, worked out movements, figured out sequences, the route began to take form. I started to believe that it was possible. The abandoned blank face now had fresh prints!
I felt totally enthralled by this new project and exciting adventure. July 5 I went in to Johannesburg to give a slide show presentation to the South African Climbing Community, but then I unfortunately had to opt out of the planned climbing exhibition the next day at "Choss Pile" because of my enthusiasm to return to Waterfall Boven to try my project and because of the time constraint that my film crew had with getting footage of the climbing. For anyone that was expecting me at "Choss Pile," I am so sorry I couldn't make it!
The next two days I spent at Waterfall Boven were exciting! The moves began to flow and I unlocked the sequences. My third day on the route, my 6th try (like with Pure Imagination!) I sent the route!
Ecstatic joy! I surge of motivation and joy ran through me at the top. I was so happy because this was a route that at the beginning, I did not even know if it was possible. The climb included long vertical run-outs, some gnarly falls, some bigger reaches, and some crack climbing. In the span of a week, I found the key to unlock this new beautiful line.
I chose to name the climb "Rolihlahla," which is Nelson Mandela's middle name. I chose this name as a tribute to Nelson Mandela. Mandela is one of the greatest men in history and it is moving to be here during such a critical period of South Africa. With Mandela's ailing status, the world is on high alert for his dwindling wellbeing. Driving through the country, we can feel the community's deep-hearted passion and love for him.
As for the difficulty, I chose to grade the route "8c." I think that this is an appropriate grade in comparison to other 8c's that I have done. Arjan de Kock, who I worked the route with from the start, nabbed the second ascent and confirmed this grade as well to me. Grades are obviously subjective, though, and ultimately what matters most is the unique exquisiteness of this line.
I am proud of this accomplishment
For more on this story, please click here.
Source: sasha-digiulian.com
Posted on: July 24, 2013