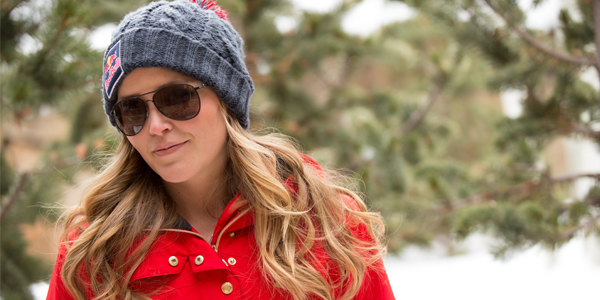 Shades of Winter
There's been a lot of buzz this fall about women's ski movies, but the real first lady of the genre, Austrian skier Sandra Lahnsteiner, has quietly been putting out these films for years. In 2010, she produced "As We Are," an all-women ski flick that focused on the European freeriding scene. Last year, she traveled to North Africa to film "Shukran Morocco."
This winter, Lahnsteiner went to Alaska, Japan and the Alps with Rachael Burks, Caja Schoepf, Matilda Rapaport and Lorraine Huber and partnered with Nico Zacek and the Nine Queens team to film freeskiers like Keri Herman and Grete Eliassen. The result is "Shades of Winter," which will premiere Sept. 15 at the International Freeski Film Festival in Montreal.
How did the movie come together?
It really started with the girls. I contacted Rachael and Caja about going to Japan, and I got an email back from Rachael that just said, "YES!" Same thing with Lorraine and Matilda in Alaska. Everything was on them, especially in Haines, where we put a lot of our own money into it. There was a lot of heart in it, more than if you're invited on a trip with one of your sponsors.
You've already produced all-women movies. Why did you want to do another?
It's not that I feel like, "We must do all-female movies because we are not featured enough." I haven't thought like that. I just really love to ski with girls. The crew is really important. You want to ski with people you trust. And then we're doing some cool things, but not super, super crazy things, and I think people can identify with that.
Where did the name come from?
Well, I read "[Fifty] Shades of Grey" last summer. … It kind of came from that. We didn't really think about names until we were in Haines throwing ideas around. All the girls had read it.
How do you balance producing and skiing?
When I finished "As We Are," I was sure I would never do that again. It was great, but I totally underestimated all the things I had to do, like coming up with concepts, pitching sponsors and putting together trips. It took away from my skiing. This year, I had more experience, so I could focus on the skiing more. It wouldn't have worked skiing in Alaska if I had all of the organizational things on my mind.
What were the best parts about filming?
My personal highlight for sure was Haines. You dream about it for so long, and then it's such an emotional roller coaster. You have all these down days where you're trying really hard to be relaxed, and then all of a sudden you get in the heli and you have to be on, 100 percent, no test run. You face all the consequences — you're super exposed on serious mountain lines — and then you just try to put yourself together and say, "This is what I've been dreaming about," and go. Then there's a huge release at the end of the line. And that's all within 30 minutes.
What about lows?
We recently lost Patrick Orton [who died in July in an accident at home in Sandpoint, Idaho], the photographer we met in Haines. We didn't bring a photographer on that trip, just a filmer, and then we had six down days in a row, staying in the back house behind the Funny Farm. He was staying there in a van with a friend, so we got to know him, and then we had a seat in our heli so he joined us for all five heli days and shot photos. He was so passionate about the skiing and the mountains, and he took so many good pictures, I think he was on track to really start his career as a photographer. His death was a moment that was absolutely hard. I'm glad we shared those times in the mountains.
To watch the video, please click here.
Source: xgames.espn.com
Posted on: August 29, 2013