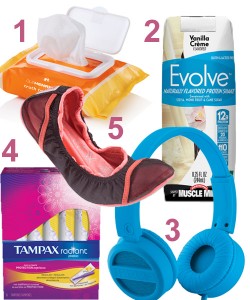 Fashion Week Survival Kit
Fashion Week Survival Kit: 10 Purse Essentials for the Craziest + Most Stylish Week of the Year
Whether you're running around the craziness of Mercedes-Benz New York Fashion Week or just trying to get through a regular crazy week, make sure you've got these on-the-go essentials packed in your bag!
1. Ole Henriksen Truth To Go wipes ($15, sephora.com). After a long day of constant shows and endless parties, treat
 your complexion to these invigorating, Vitamin C-infused wipes. They're great for removing stubborn makeup and giving your skin a just-cleansed feel, all in go.
2. Evolve protein drink ($6.99, find locations at drinkevolve.com). When you're trying to make it from show to show, it may be hard to squeeze in time for some actual food. But for a nutritious treat you can totally sneak inside your bag
, look to this naturally-flavored protein shake to keep you full in between meals.
3. iHome 1B34 rubberized headphones ($29.99,  ihomeaudio.com). Got some time to kill on the subway? Chill out and unwind with your Fashion Week playlist using these trendy, rubberized headphones.
4. Tampax Radiant, 32 count ($6.99, target.com). Don't let your cycle prevent you from being a Fashion Week pro! For long-lasting, maximum protection
, pack a tampon or two inside your clutch to stay constantly prepared.
5. Corso Como Ballasox packable flats ($64 and up, zappos.com). Sure, you'd love to rock those stilettos all day long—but when those feet become sore beyond belief, try switching over to these stylin' foldable flats for instant relief.
Read more at http://bettyconfidential.com/2013-9-3-mercedes-benz-new-york-fashion-beauty-fashion-week-survival-kit-10-purse-essentials-for-the-craziest-most-stylish-week-of-the-year-mbfw-fall/#m22zPTDwdm6Zve8L.99
Posted on: September 9, 2013