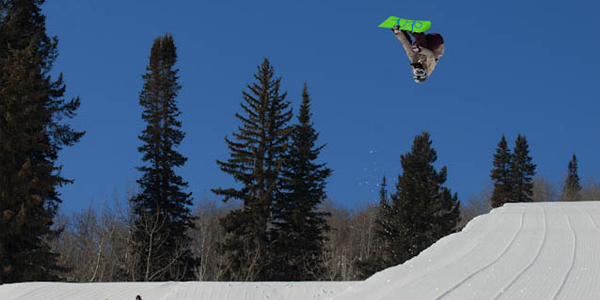 GRETCHEN BLEILER LANDS BACK ON THE PODIUM
FOR IMMEDIATE RELEASE: Cardrona, New Zealand – September 12, 2013: Olympic Snowboarder, Gretchen Bleiler found herself back on the podium in her first two halfpipe competitions this season, after sitting out most of the last season due to a serious eye injury. In the summer of 2012, Bleiler's knee hit her right eye socket, fracturing it as well as giving her a concussion. After undergoing surgery, Bleiler struggled with double vision. Daily exercises helped her break up the scar tissue that holds her eye in one place and regain her vision in order to continue competing.
The first time back in the halfpipe at the New Zealand World Cup last month, Gretchen claimed the third place spot in Women's Snowboard Halfpipe with 85.25 on her second run.  Coming off the worst injury of her career, Bleiler built back her confidence and returned to the snow with a podium finish.
Today, at the Burton High Fives in Cardrona, Gretchen found herself medaling for the second time in the past month.  Landing a solid run, she finished in the third place spot with a score of 80.60.
"It feels so good to be riding with my full amplitude again and to stand on the podium for the second time in a month really helps with my confidence, especially after a tough road to recovery," said Bleiler.  "I still have my work cut out for me but I am so excited and ready; it's going to be a great season!"
For more information or to arrange an interview with Gretchen please contact Denege Prudhomme at Stanton & Company.
Posted on: September 16, 2013