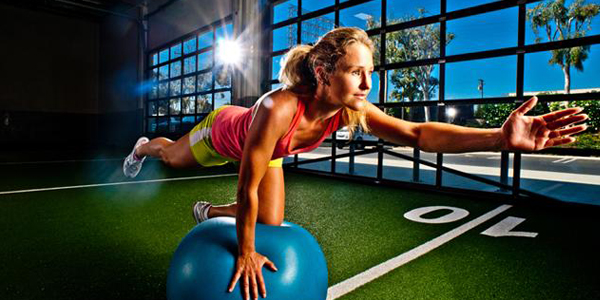 Look like an Olympian: Get thighs like Gretchen Bleiler
Gretchen Bleiler, 32, snowboarding
The strong, sexy snowboarder is hoping for her shot at gold in Sochi, which would be her third Olympics (she already has a silver under her belt, no big deal). But staying fit enough to fly down the mountain is no easy feat. Gretchen, who actually has her own Go Pro Workouts series, shares her tips as part of our Look Like an Olympian series. And if you've seen her photos in the ESPN body issue, you know she's got some clout.
Her go-to move:
Single-leg hamstring holds. "Push up on one leg and really push in to the heel and hold the other leg up for 5 seconds. Then you bring it down to be parallel with the other leg and hold for 5 seconds, and then you move it back up for 5 seconds. Do the whole thing for a total of 10 times. And then when you're done, you switch it to the other leg."
Why she does it:
"This is part of my warm-up, it really fires up the hamstring and the glutes before I go up on the mountain," Gretchen said. "It gets the hamstring, glutes and hips all working together."
Workout routine:
"In the fall, I'm working out up to two hours in the gym a day and trying to get 30 minutes to an hour of cardio every day," Gretchen explains. "But that's hitting it hard before the season. I have my own workout and it's all pretty nontraditional stuff with an exercise ball, focusing on balance and power and weird crazy stuff that I've never seen anywhere. I think that's really important to do – mix it up, because if you're working out that much it can get mundane, and you want to make sure you're enjoying this process."
Related: Get abs like Grete Eliassen
Nutrition tips:
"Start off with a great breakfast! I typically have breakfast, have a snack, have lunch, have a snack, and have dinner. I like eating small meals frequently throughout the day, it helps me keep up my metabolism and get more out of my training."
Go-to workout song:
"Can't Hold Us" by Macklemore. "He actually performed at the U.S. Open last year and since then he's been blowing up, so I like all his stuff but that one has a really good beat – it's motivational and inspirational.
Click here for the full story and to watch the video.
Source: today.com
Posted on: November 19, 2013