AND SO IT BEGINS… by Amy Stanton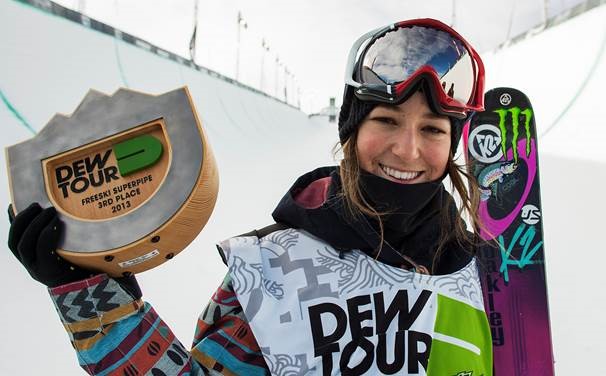 Today the winter season officially kicked off with the first big ski/snowboard event – the Dew Cup Championship which also happens to be a Grand Prix/Olympic qualifier. It's exciting to be here in Breckenridge with our amazing athletes, Gretchen Bleiler, Grete Eliassen, Maddy Schaffrick and Brita Sigourney (and Chanelle Sladics is commentating, Kristi Leskinen is watching… full house!)
With all the nerves in general around a big contest, and even more because it's an Olympic qualifier, I don't know how these girls do it – the circumstances require real grace under pressure. It's so easy to forget the reason most of them started participating in these sports… to have FUN!
This morning was Brita's final in ski halfpipe. Coming back from two surgeries last season, Brita started the season off right with a third place finish. She was happy and relieved as she took a series of deep breaths celebrating the fact that she had her first contest of the season under her belt. No matter how she actually felt inside, she looked calm, cool and confident out there as she landed her run. With a big smile on her face, she talked to several reporters, gave everyone hugs and collected her trophy. She took it all in stride. Grace under pressure.
I'm so proud to work with Brita and our other amazing women – they inspire me to push through challenges, keep my head up, believe in possibility and so much more. I am grateful.
Posted on: December 17, 2013