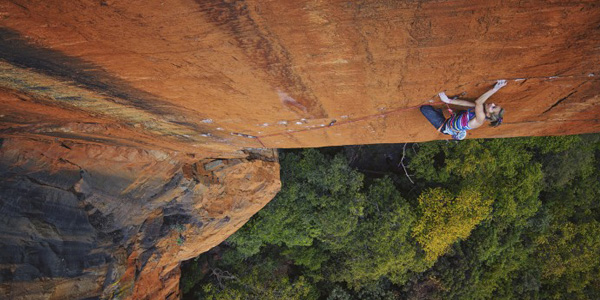 Sasha DiGiulian Climbs South African First Ascent
Watch as the ambitious young climber conquers a new route, naming it for Nelson Mandela.
Sasha DiGiulian's climbing resume is already stocked with the type of highlights that career climbers envy; though only 21, she's been charging within the sport for 14 years. In 2011 (at age 18) she became only the third woman in history (and the first from North America) to climb a route rated at 5.14d. It's one of the many accomplishments that have attracted the attention of climbers around the world, and she continues to up the ante.
On a recent trip to South Africa (the 29th country she's climbed in), DiGiulian came across a route which had been laid out years ago but never actually climbed. The video above shows the challenges she faced; she eventually completed the entire route — a first ascent — earning the right to name it. She chose 'Rolihlahla,' Nelson Mandela's middle name.
We caught up with Sasha before she left for a climbing trip in Spain to talk about her experience in South Africa.
redbull.com: How did the South Africa trip compare to the other trips you've taken?
Sasha DiGiulian: South Africa was easily one of the most exotic experiences that I've had. The vast landscapes, diverse wildlife, and eclectic culture were staggering. The rock was also unique: bullet sandstone, stronger and more beautiful than any other rock I have climbed on before.
How do you choose where to travel?
Honestly, I was open to any adventurous ideas, and my friend from South Africa proposed that we come check out the scene there, so I called Keith and Andy [from 3 Strings Productions] and told them about my plan — which was, basically: let's go to South Africa and find a plan!
Do you have much of an opportunity to explore these places from a tourist perspective, or are you focused on climbing the entire time?
I like to learn about where I am; this was part of what motivated me to continue on to university without further delay, because traveling often sparks my interest to learn more about the places I visit. I don't like to solely climb without taking in my surroundings. It's easy to get fixated on one task, though I find that by broadening the scope of my experience I have the most enjoyable, memorable experience. Then I do my best when I am having the best time.
How did it feel to achieve your first 'first ascent' with Rolihlahla?
The entire process was really cool; to unlock movements that had never been done before and to really solidify something as possible that previously was not. I felt such power when I completed the route. The experience was a mental journey and a physical battle.
With respect to the first ascent, is this something you were pursuing or anticipating would happen on this trip, or even in the near future?
Really, the route just happened! I was walking down to try another route that had never been done by a female before, aware of it as the most challenging route in the area, when we looked up at this striking blank face above us. It didn't have any chalk or evidence of previous climbers from the recent past, which typically-trafficked or often-done routes have.
The line looked beautiful; it was exposed and an orangish-red color with tiger-like stripes. Arjan [De Kock], my South African friend who is a professional climber himself, called some friends and found out that it was a standing, open project, which means that it had been equipped with bolts for someone to place draws in about ten years ago, but then had been abandoned as no one completed it. I set my stuff down and went to explore the moves to see if it was possible!
You followed with another first ascent on the same trip, correct? Was that totally unexpected?
Yes, I did! After Johannesburg we flew to Cape Town to climb at an area called "Montagu." It was actually Arjan's idea to try this project and while belaying him on it, I wasn't too motivated to try it because I felt like I could just climb already-been-done climbs and be happy with that. As I watched him fight through sequences though, I figured, 'why not give it a try?' I had hiked up and was there already!
Initially I couldn't do all the moves on this route and it felt really physical and powerful. On my third day on it the conditions felt more prime; it was crisp and I had the extra strength of it being my last day, so I wanted to go all in. I had nothing to lose — I could put all my reserves on the table, and I did — and I did it! That was cool. I named the route 'Miss-Behaving;' get it?
What do you have planned so far for 2014?
For 2014 I brought in the New Year with a ski trip in Quebec, Canada, then I have two weeks in Southern Spain, an area I have never been to before. I will climb at El Chorro. Then, my winter break is over and I have school until May. While back in school I have several events including a presentation at the Vancouver Film Festival, SXSW with Equinox, US Nationals, some Pro-Tour Competitions, and an international Competition in Japan. Also, when the weather gets a little less frigid I will be able to make short local trips outside when school permits.
When I finish exams in May, I have my nice extended vacation until September during which I can do bigger outdoor trips again! Right now on my mind are South America, Europe, and some destinations out West!
Is it difficult to balance training, travel, climbing, and school?
It can be difficult. I am still mastering time management as well, but I think that I'm pretty good with it generally. Having fun with my friends and family is really important to me as well. I train six days a week and climb with my coach, Alexi Thomakos, five of those days for about 2-3 hours. I am taking the full load of classes and when I travel, I do my schoolwork in transit.
What are your overall goals for the long term?
I want to push the standard for sport climbing and inspire as many people within and beyond the industry as possible to pursue their passions. I want to expose climbing to as broad of an audience as possible because I truly believe that it is an incredible (I'm biased, I know, but still), empowering mind-body sport that can be practiced basically anywhere, in the most remote, beautiful locations around the world, and trained in urban city centers like NYC.
I love climbing and see myself climbing for the rest of my life, and I want to always feel this connection with the sport. I am motivated most by my friends and when I am outside smiling, having a good time, and challenging myself. This is my world of climbing that I want to transcend.
Posted on: January 6, 2014