FREESKIING'S OLYMPIC DEBUT by Kristi Leskinen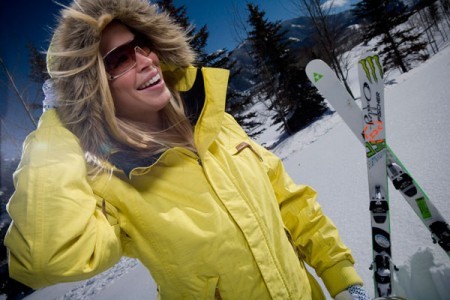 The Winter Olympics are right around the corner.  This year three new sports will make their debut in Sochi.  In anticipation, halfpipe skiers and slopestyle skiers/snowboarders are working harder than ever to shine on our sports first world stage.  In a months time, several people I'm proud to call friends will have Olympic medals around their necks. I'm excited for them, and to watch my sport gain Olympic recognition. It's been a long time coming and it certainly deserves it.
I've been involved in women's freeskiing from day one.  I left mogul skiing in 1999 to be part of something new.  It was just the aspects of skiing I loved, jumping and doing tricks.  There was no organization, only one contest and some really inspiring ski movies.  I knew it was what I wanted to do from the moment I saw Johnny Decesare's movie "State of Mind."  I was hooked.  I remember my mogul coach pulling me aside after I announced my decision to leave moguls.  He asked if I'd rather "hit jumps and goof off or have a chance to win an Olympic medal." To me the choice was easy, but it's a question I never forgot.
That year I had met Johnny Decesare and all the skiers I looked up to in his movies.  I was a huge fan.  The first thing I asked Johnny was when was he going to put girls in his movies?  I obviously had a goal in mind.  A year later I met him again, this time, as the first girl competing in the US Freeskiing Open.  Partly as a result, I also became the first girl to appear in one of his movies.  An early goal achieved.  That summer I met Sarah Burke and the two of us became a team.  We began lobbying contests, sponsors and filmmakers to include us.  In the early years we were the extent of women's freeskiing as the sport was still in its infancy.
We had no idea what would happen over the next few years.  More girls joined the fray and our fledgling sport began to grow.  Our lobbying paid off, we started getting invites to larger events. The X-Games, Gravity Games, and in 2005 FIS recognized our sport and welcomed us to the World Championships.  After that we set our sites on the Olympics.  It was too late for 2006 but maybe 2010?  Unfortunately that wasn't to be, but in the summer of 2011 we got word that we were to be included at Sochi in 2014.  It felt like we had really accomplished something special. We had been instrumental in creating an Olympic Sport.
The high didn't last long.  In January 2012 we lost Sarah Burke and I lost my partner in crime and one of my best friends.  Since then the freeskiing world has been a different place to me and I haven't competed since (She probably wouldn't be happy with me!). While I'm still involved and will never stop supporting or believing in the sport I love, I now won't get a chance at the Olympic medal my mogul coach warned me about years ago.  Freeskiing gaining inclusion in the Olympics is something I will always be proud to have been a part of.  I'm so excited to see what the course will be like, who will win the sports first Olympic gold, whose lives will be changed forever, and especially what the World's reaction will be when it sees Freeskiing for the first time.
Posted on: January 8, 2014