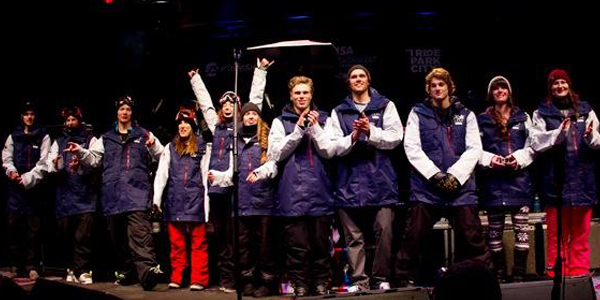 Brita Sigourney earns Olympic berth on 24th Birthday
FOR IMMEDIATE RELEASE: Park City, Utah – January 19, 2014:  US Freeskiing Team member Brita Sigourney became the second U.S. woman to secure an Olympic halfpipe berth on the first-ever US Olympic Freeskiing Halfpipe team Friday night at the U.S. Grand Prix in Park City, Utah.  Sigourney, who turned 24 on Friday, celebrated her birthday in a way that very few people will be able to experience, achieving a lifetime goal of qualifying for the 2014 Winter Olympic in Sochi, Russia.
Last night, at the 2nd half of the Park City Grand Prix doubleheader, Sigourney found herself back on the podium with a 2nd place finish.  Having secured her spot on the Olympic team Friday evening last night's event was used as practice for next month's Olympic Games.  Sigourney capitalized on the opportunity and put down a technical 2nd run that earned her 83 points and another medal, her 3rd podium finish over the last five Olympic qualifier events.
"I am beyond excited to be a part of history, making the first-ever U.S. Olympic Freeskiing Halfpipe team," says Sigourney.  "So many people before us have put so much effort into getting our sport into the Olympics, and I just want to go out there and show the world what we can do and make everyone proud.
The formal naming of the 2014 U.S. Olympic Team by the United States Olympic Committee is set for Jan. 27.
For more information or to arrange an interview with Brita please contact Denege Prudhomme at Stanton & Company.
Posted on: January 20, 2014