Chobani Sends Yogurt to Winter Olympics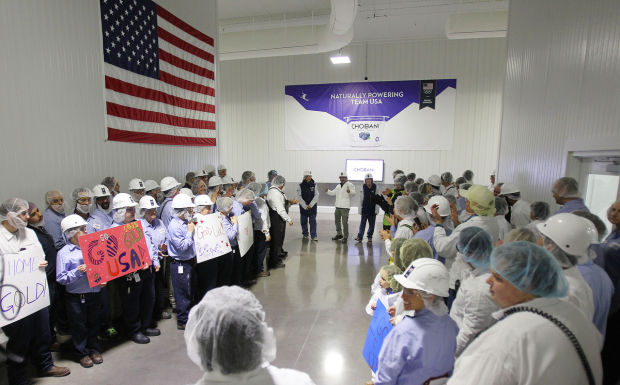 TWIN FALLS, Idaho • Chobani employees chanted "USA! USA! USA!" Tuesday as they waited for several members of the U.S. Olympic Ski and Snowboard Team to appear.
Halfpipe ski competitors Aaron Blunck, 17, from Crested Butte, Colo., and Brita Sigourney, 24, of Carmel, Calif., were at Twin Falls' Chobani yogurt plant to launch the company's sponsorship of the ski team.
The two athletes are heading to Sochi, Russia, to compete in the 2014 Winter Olympics, and a shipment of Chobani Greek yogurt will go with them.
Chobani CEO Hamdi Ulukaya introduced the athletes to his employees as a film crew documented the event.
"This is unbelievably special for Hamdi," said Peter McGuinness, chief marketing and brand officer for Chobani. "This is truly a genuine, authentic sponsorship — these athletes eat our yogurt every day."
Chobani is an official sponsor of U.S. Olympic and Paralympic athletes for the Sochi 2014 Olympic and Paralympic Games.
Ulukaya said it is only fitting to launch the sponsorship from Chobani's plant in Twin Falls.
"Sponsorship begins with the factory," said Ulukaya. "It has taken the plant — and the community — to make this happen."
Chobani started producing Greek yogurt at its Twin Falls plant only 13 months ago and, in that time, production has increased from 20,000 cases each week to 1 million cases, said McGuinness.
While Blunck and Sigourney posed for photos and autographed hardhats for dozens of Chobani employees, recent threats of terrorism were pushed far from mind.
The launch "is all about the athletes," said McGuinness.
Russian President Vladimir Putin has ordered beefed-up safety measures nationwide after 34 people were killed last month in bombings in Volgograd, in southern Russia.
About 37,000 Russian personnel are providing security in the Sochi area, according to news reports.
"Should we be concerned and cautious? Yes," said Mike Jaquet, manager of the U.S. ski team and a former Ketchum resident.
"I think any global event is a (terrorism) target," Jaquet said, adding that the U.S. Olympic teams will have their own security in Russia.
"This is the most talented ski team in the history of the Winter Olympics," said Jaquet.
"These guys work their entire lives for what goes down in two minutes. They only have one shot."
To read more, please click here.
Source: Magicvalley.com
Posted on: January 22, 2014