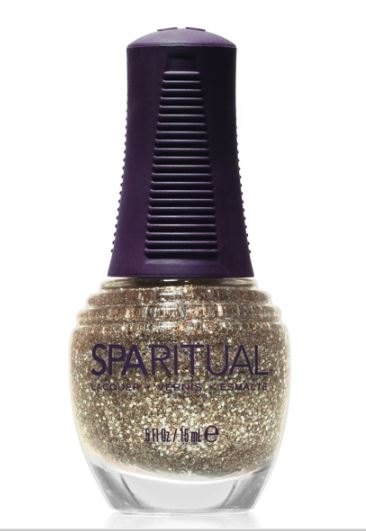 All that Glitters
As much as we all might love the look of nail art, the fact we can't always all do it is undeniable. So in a pinch, a great glittery or metallic polish always does the trick, making us feel glam and sophisticated but still on-trend. Fortunately we've got some new formulas to play with, thanks in part to awards season.
A great place to start when searching for an Oscar-worthy metallic is SpaRitual, which launched an Award Season Nail Lacquer collection in partnership with the Four Seasons Hotel Los Angeles at Beverly Hills, comprised of six stunning shades. Make an Entrance is the aforementioned gold, while After Party is a champagne-hued sparkly number perfect for adding glitz to any look. The new Encrusted collection from Essie—always a go-to for covetable hues and statement-making top coats—takes glitter to the next level. With chunky glitter and multidimensional hues, their six polishes ensure are truly like jewelry for your hands. Belugaria is like black diamonds for your tips, while Hors d'Oeuvres is the perfect pale-gold shimmer and Lots of Lux adds a pop of sapphire to the hand.
One rule of thumb to remember: keep glitter superchic by keeping nails on the shorter side, and rounded. Other than that, shine on!
Source: Foam Magazine
Posted on: January 24, 2014