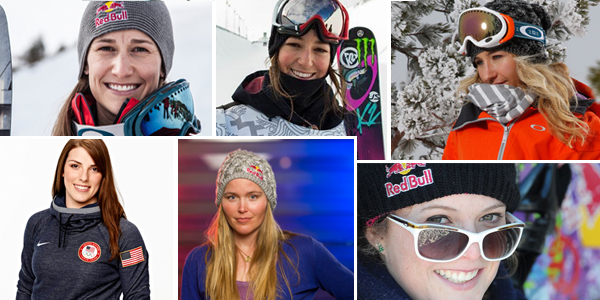 SOCHI 2014: WRAP REPORT by Amy Stanton
So the Olympic Games have come to an end. What a wild ride it has been for everyone that touched the Sochi Games in any way, shape or form.
I've been an Olympic junkie since I worked as the Director of Marketing & Communications for New York's Olympic bid, NYC2012. I had no idea there even was a bidding process for the Olympics, and now I know what an enormous undertaking it is for a city to be awarded the Games, seven years before the Games happen. For the first time, I had insight into the highly political process and the ever-political International Olympic Committee. I was amazed that a sporting event that seemed to be the ultimate meritocracy was governed by such a political process and organization. Knowing what I do has only made me more eager to impact the Olympic movement, whether that's through my work with athletes, sponsors or possibly even another bid effort – I believe in the tremendous power and impact of the Olympic Games and hope to stay close to the movement for many years to come.
For the Stanton & Company athletes, the Sochi Games didn't turn out to be everything they had hoped… that said, there was magic in the air as there always is around the Olympics, and we're incredibly proud of our girls.
After a number of knee surgeries and with hard work on the recovery, snowboarder Maddy Schaffrick was healthy and able to participate in Olympic qualifiers. She was out there giving it her all and having a blast (which is really rare at Olympic qualifiers, let's be honest!) – while she didn't qualify for these Olympics, she's as inspired as ever and already thinking four years ahead to the next Olympics.
Freeskier Grete Eliassen came close to qualifying for the first-ever Olympic ski slopestyle competition, but was edged out of a spot on the team at the last Olympic qualifier. Amazingly, she landed her 1080 that day for the very first time ever… too bad it was after a fluke accident where her ski came off on the rails… she should be proud nonetheless and has lots to look forward to as she returns to her beloved backcountry skiing, filming and other ski adventures.
Gretchen Bleiler was my very first client and she introduced me not only to the sport of snowboarding but to the whole crazy world around it. Thank you, Gretchen. When we first met, she had just won the silver medal in Torino. Eight years later, I found myself by her side for another Olympic qualification process – the insanity and intensity of these qualifiers are indescribable. One year ago, still recovering from her fluke trampoline training accident on June 26th, 2011 (my birthday), Gretchen wouldn't have believed she could even ride at the level to compete in upcoming Olympic qualifiers… her vision was unpredictable and her riding wasn't where she wanted it to be. On so many levels, competing at the qualifiers was an unbelievable accomplishment for Gretchen, and her level of riding was amazing – she was just a few weeks of training away from being at her best but timing is everything, as usual.. She is a trooper, a survivor, a pioneer and will always be one of the all-time greats in snowboarding and PERIOD! She came close to qualifying for her third Olympic team until Kaitlyn Farrington edged her out for the fourth spot at the last qualifying event. (Congrats to Kaitlyn for taking home the Olympic gold!) Gretchen had been struggling with her frontside 900 throughout qualifiers and landed it three times in that last qualifier… so close. While she was very disappointed not to make the Olympic team, as always, she handled it with grace, poise and smiles in a way that only Gretchen can.
Now for S&Co athletes that did qualify…
Freestyle skier Heather McPhie started off this season with a bang winning world cups and setting the tone for the season. Her Olympic qualification process didn't go as smoothly as she would have liked, but she made the team and had a strong showing in Sochi (her second Olympics), finishing 13th in the final. She was very proud of the run she skied in the final and knew she gave it her all – that's all anyone can ask at the Olympics! We're so proud of Heather's amazing skiing accomplishments and her overall positive attitude.
Halfpipe freeskier Brita Sigourney was one of the first to qualify for the Olympic team – she brought her A-game to qualifiers and showed everyone what she's capable of. In the qualifiers, she finished second with a great run that would have ultimately been the second place score in finals. Unfortunately, she didn't fully land either of her runs in finals so she ended up in 6th. She knew she wanted to raise the game in Sochi and knowing Brita, I'm sure she's still thinking about how she's going to do that! Brita is a true champion and demonstrates this not only through her athleticism but in her graciousness and kindness. Her teammate and close friend Maddie Bowman won the gold medal and Brita's quote about Maddie (USA Today) was very Brita: "She's so funny. She said that she wanted me to win and that she's so proud of me. I told her to shut up because she deserves this more than anyone," Sigourney said. "It was the most technical run out of any girl skiing. It's more technical than any run any girl has done all year, plus it's got amplitude and style, she's just got it all."
Last but certainly not least, ice hockey forward Hilary Knight was named to the team on Jan. 1, 2014, excited to show the world the best of women's hockey and most importantly, to take down the Canadian team, bitter rivals for Team USA for years. Team USA had a great run through the Olympics – Hilary scored the very first goal and was a key player throughout. The gold medal match turned out to be a nail bitter that ultimately resulted in a win for Canada, 3-2 in overtime. Incredibly intense, and incredibly disappointing for Team USA. We think a silver medal is pretty impressive, too, for what it's worth, but know that for Hilary and Team USA it was all about that gold medal and taking down Team Canada. We are incredibly proud of Hilary, on and off the ice. And we know that she'll get her Olympic gold medal… it just might take another four years.
That's the full report on S&Co athletes. One of our former clients, snowboarder Jamie Anderson, brought home the gold in snowboard slopestyle – this is no surprise because she's an incredibly gifted athlete and has been dominant in the sport for years. Even though we aren't working together, we celebrated her win as if we were – so proud of her achievements and it has been unbelievably fun watching her gold medal media including Ellen and the Tonight Show with Jimmy Fallon.
I've enjoyed watching the Olympics every night and while I've missed being in Sochi, I have had the benefit of actually watching the coverage and knowing what's going on (which is hard to do when you're actually there!) Lots of amazing and special moments in competition, a real focus on action sports (freeskiing and snowboarding in particular) which has been exciting, and of course, the wonderful human interest stories around the Games themselves.
It goes without saying that I've been paying close attention to the dog-related stories since it sounds like one of the many issues in Russia is the stray dog situation and more importantly their lack of humanity… they were putting stray dogs to sleep to clean up the streets. This is so disturbing on a number of levels. I have seen a number of athletes including Lindsey Jacobellis and Gus Kensworthy bringing home puppies – if I could fly over there and bring home a plane full of them I would (if anyone reading this can help make it happen, I'm game!)
And here's one more example of why the Olympics are so special and bring out the best in everyone.
I'm proud to be working with such amazing athletes and the sponsors and governing bodies that support them and make the Olympics possible. Now it's time for us to start planning for Rio 2016 which is right around the corner!
Posted on: February 20, 2014