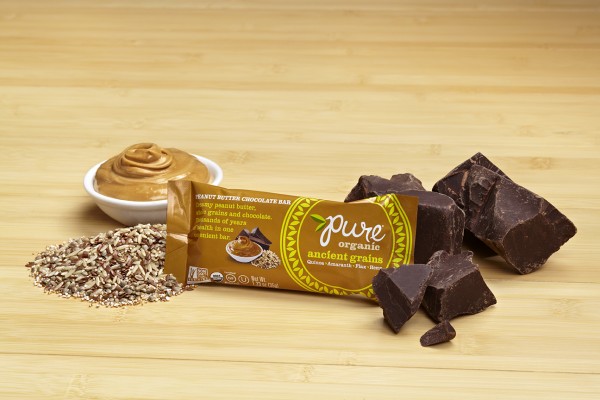 Pure Bar Gets Ready for Expo West
I go to Expo West for a few very simple reasons: 1) to get a pulse on the $99B natural products industry & to see what trends to expect for the year, 2) to sample the newest vegan food on the market and 3) to meet the leaders behind some of my favorite companies.
Expo West is where natural product companies debut their latest products, make newsworthy announcements and where thought leaders discuss the latest trends, stats and legislation affecting the industry. Highlights from last year include:
Whole Foods announced its decision to label all GMO foods sold in its stores within 5 years! Who will top this announcement this year?!
Lyfe Kitchen made its mark on the press (and made a loyal customer out of me. It doesn't hurt that its restaurant is a mile away from my office and its vegan "chicken" sandwich is to live for!).
This year, I'm looking forward to so many things, but especially the following:
Food Politics at Expo West
I can't wait to listen in on Raj Patel's keynote on Saturday, March 8th from 9:00-10:15 am at the Anaheim Marriott, Platinum Ballroom 6. Raj Patel is an award-winning writer, activist and academic who has written the books Stuffed and Starved: The Hidden Battle for the World Food System and The Value of Nothing: How to Reshape Market Society and Redefine Democracy. Raj will be answering the question: "How Will We Feed 10 Billion People Sustainably?" People who read my blog know that I am a nerd and instead of crushing on celebrities, I crush on academics. Raj is one of those academics. Let's hope I a) secure an interview with him and b) if the latter occurs, that I don't make a fool of myself. The Natural Foods Merchandiser did a great Q&A with Raj here if you'd like to get a feel for his views and activism.
What's Vegan at Expo West? So many things! I'm looking forward to the following:
Taste-testing Hail Merry's – Booth No. 1474 – two new (and undisclosed) macaroon flavors. They won't let me in on the secret, so if you find me at their booth shoveling macaroons down my gullet in recompense, don't judge me. [Hopefully Raj Patel doesn't read this post; he'll think I'm a part of the "Stuffed" problem. Oy vey!]
NadaMoo – Booth No. 5397 – will be debuting two new flavors of their coconut ice cream called Vanilla Cha Cha Chai and Bananas for PB & Chocolate. Their next flavor should be called, "GetInMahBelly" as a tribute to my eating style, no?
Zouq – Booth No. 8000 – a new line of vegan and GF South Asian-inspired snack foods, will launch at the Expo
Some of my vegan crushes including Carolyn from Healthy Voyager – Booth No. 3668 – and Brendan Brazier – Booth No. 750 – athlete and founder of Vega – will be there!
Mary's Gone Crackers – Booth No.2304 – will debut its new graham cracker line
My friends at Fruigee's – Booth No. 7505- will be debuting their product line for the first time! I can't wait to embarrass them by being all mother-hen-like and snapping pictures of them in action 
Earnest Eats – Booth No. 3784 – will be sampling its entire line of Hot & Fit Cereals (including new flavor, gluten free Superfood Blueberry Chia) and their line of Chewy Granola Bars
CalNaturale Svelte – Booth No. 3638 – is debuting their new soy protein drink flavor, Banana Creme! I love Svelte, so I can't wait to try this!
NibMor – Booth No. 2316 – is debuting a new Daily Dose chocolate square flavor: "Daily Dose of Dark Extreme." Yum!
Purely Elizabeth – Booth No. 2711 – Recently launched two new products – a quick-cooking Ancient Grain Oatmeal in three flavors and a slow-cookingAncient Grain Hot Cereal (which contains kaniwa, a "new" ancient grain superfood). A new superfood? I'm in. I need all the "super" I can get.
Pure Bar – Booth No. #2360 – Pure is debuting two new flavors of their certified organic, non-GMO line of bars: Peanut Butter Chocolate Ancient Grains and Cashew Coconut. I've already tried the Peanut Butter Chocolate Ancient Grains recently at a HUMAN event and loved it. Can't wait to try the Cashew Coconut one!
Seapoint Farms – Booth No. 2473 – will showcase its newest product, Dry Roasted Premium Black Edamame with Sea Salt. Black edamame? I'm intrigued. And scared. Nevertheless, I shall eat it!
Love Grown Foods – Booth No. 4485 – is launching its new cereal called "Power Os" made with navy beans, lentils, garbanzo beans and brown rice. Beans for breakfast? Sure, why not! I'm Costa Rican, after all!
Follow Your Heart  – Booth No. 2292 – the brand behind the award-winning and original eggless mayonnaise, Vegenaise, will unveil its new squeeze bottle in the Original and Reduced Fat varieties and showcase its new "cheese" shreds.
Field Roast – Booth No. 1478 – will debut their new Apple Maple Breakfast Sausages and their hand-formed "burgers." Get.in.mah.belly.
 Bob's Red Mill Natural Foods – Booth No. 3546 – the leading provider of whole grain and gluten-free foods, will formally unveil two new Gluten Free Granolas, three new quinoa products and a new nut flour, Natural Almond Meal. All six products are gluten free.
Health Warrior – Booth No. 5020 – is launching three new flavors of its industry-first chia bars: Mango, Dark Chocolate Cherry and a Next Generation Peanut Butter Chocolate flavor. Did you know that ounce-for-ounce chia seeds have more omega-3s than salmon, more fiber than oatmeal, and are loaded with protein, calcium, and antioxidants?!
Gardein – Booth No. 4389 – will debut its "Golden Fishless Filet" and gluten-free beefless ground. Can't wait to sample..for "research," of course.
Ok, this one isn't vegan-food-related, but it's vegan-related and awesome. Dr. Bronner's (the "magic soaps" people) – Booth No. 3820 – recently announced that vegetarian advocacy and animal welfare will become a core focus of the company's activism efforts. From a press release: "Dr. Bronner's will give $100,000 over the course of 2014 to Compassion Over Killing, The Humane Society of the United States and other effective organizations advocating on behalf of animals and working to reduce animal suffering, including The Humane League, Our Hen House, Farm Sanctuary shelters in Orland, and Los Angeles, CA, as well as Poplar Springs and Vine Sanctuary on the east coast. David Bronner will also join the Farm Animal Protection Council of the Humane Society. In addition, the company intends to substantially step up its level of support in the future" [here]. Now that's a reason to buy some soap and lather up if you ask me! Can't wait to talk to them in person about their new Vegan certification and their commitment to animal advocacy.
Source: Feed Me I'm Cranky
Posted on: March 6, 2014