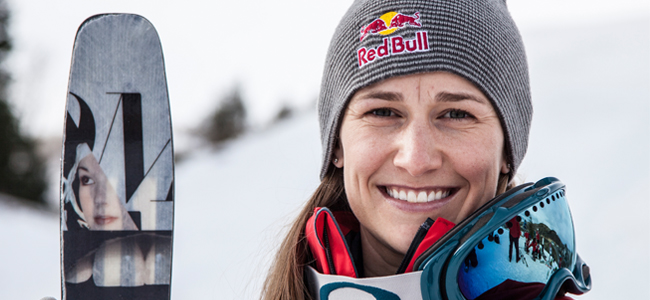 Freestyle Mogul Skier Heather Mcphie Is Proof That It's Possible
American freestyle mogul skier Heather McPhie came late to moguls skiing, but ever since she's been making up for lost time. In 2012, she became the first moguls skier ever to pick up a Red Bull sponsorship. She used her new wings to add four more World Cup podiums on her way to finishing fourth in the moguls standings, then iced the cake at season's end with her very first US National title. Not that it was always easy….
"My Olympic experience really started in the spring of 2009. I had this really tough year that year. I barely re-qualified for the team, I had lost my funding, and I was just really struggling. I was at a crossroads where I had to decide was I all in or was I ready to move on? And I chose all in…. And I went from 27th to second in the world in a span of, like, two-and-a-half months—not even"
We sat down with the eloquent 29-year-old to get the 411 on what life is like for her off the hill.
Where were you born?
"Bozeman, Montana."
Where do you live now?
"Salt Lake City, Utah."
What was your first car?
"1987 Chevy Spectrum."
What do you drive now?
"Audi Q5 TDI."
Favourite place to shred?
"Big Sky Resort in Montana."
Last song played on your iPod?
"'Can't Go Wrong' by Philip Phillips."
Favourite music to train to?
"Upbeat music with meaningful lyrics; Phillip Phillips, Alphabeat. My playlist is very eclectic."
Do you listen to music while you compete?
"I don't. I really like to be able to hear everything, and I feel like I have better balance and reaction time when I can hear my surroundings."
Game changing book you read?
"Mountains Beyond Mountains by Tracy Kidder."
Who's your athlete idol?
"Kari Traa."
Favorite way to relax and unwind?
"Yoga, taking a bath, reading a book, getting together with my friends for dinner."
What did you want to be when you grew up?
"Good question. For a little while it was a barrel racer until I realized I was terrified of horses."
What's the toughest part of your job?
"Saying goodbye so often to the people I love."
What's the best part of your job?
"Seeing the world, doing what I love, and pushing myself!"
What does your diet looks like when you're training hard?
"We are on the road so much that my diet is all over the place. When I am training hard I do my best to get enough calories throughout the day in healthy options. Almost every morning I'm training I eat oatmeal. For snacks I eat hummus with veggies and crackers. I also really like quinoa salads or regular salads for lunch. Hard-boiled eggs are one of my favourite after-training snacks, and Greek yogurt. Dinner varies more, but again I try for healthy options and plenty of food! My main 'issue' if I'm not focusing on it is forgetting to eat immediately after a workout (so I have started using recovery drink within 30 minutes of big exercise), and overall just not getting enough calories."
And when you're not training hard?
"Basically the same, I honestly don't enjoy sweets nearly as much as I used to."
Favorite guilty pleasure food?
"Dark chocolate and red wine."
What you always consume before a workout (besides water)…
"Slow-cooked organic oatmeal with molasses, peanut butter and fresh fruit."
You are the world's best at (besides skiing moguls)…
"[My boyfriend] Graham says "being productive and organized without being OCD."
What's your craziest injury?
"Fractured back in 2006."
What's your sketchiest travel story?
"Oh man… so many to choose from. After the 2010 Olympics (where I stayed the entire games and was super fan), I had been on the road for more than two months already. We were travelling from a World Cup in Japan to our next stop in Are, Sweden. For some reason we had to fly back through the US, so we travelled from Inawashiro to Tokyo Japan by bus (approximately 3.5 hours), stayed over night in Tokyo, and then caught a flight to San Francisco where we had a seven-hour layover and could not check our bags in early. From there we arrived in Amsterdam where we had a 10-hour layover. About eight athletes were on this excursion, so we rented a couple hotel rooms and took turns sleeping/walking around the city like zombies. From there we caught two more flights before arriving at the airport in Norway—thankfully with all our bags—in the middle of the night. From there we had a two-hour drive to our hotel. I don't know if it constitutes as sketchy, but it was a 57-hour travel 'day' and I remember feeling off for a while after that trip!
My most recent sketchy travel story ended this morning! We were coming back from our first World Cup in Ruka, Finland. It was a super long travel day including a three-hour bus ride and three tight connections where twice we barely made our flights. Six of us ended up in Salt Lake by midnight and we were zero for 14 bags! Most of our bags were only tagged as far as Helsinki, so hopefully we see our stuff again in the next couple days! One of my teammates was nice enough to give me a ride home at 1am, and I have a lockbox for a hidden house key so I just got dropped off. But it has been so cold here that the lockbox was frozen shut! I was doing everything I could think of with what little I had. I was using the light on my cell phone and found a flat head screw driver in the garage and the lighter for the BBQ to try to heat the lockbox up, but after 45 minutes of trying and one per cent battery life on my phone, I called a friend who thankfully answered and picked me up. So, after over 30 hours of travel, I slept on a couch last night instead of my own bed, but at least it wasn't outside in the cold!"
If you weren't an athlete, what would you be doing?
"My dream is to be able to give back, so I would love to become a yoga instructor, get my degree in nutrition, as well as do some motivational speaking and continue to be an ambassador for Big Sky Resort. I also dream of helping open a lululemon in Bozeman! I have so many things I am passionate about, that it sounds perfect to be a part of quite a few things that have to do with wellness."
Posted on: March 17, 2014