Expo West 2014 Top 10 Countdown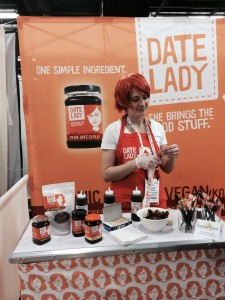 By Amy Stanton
Natural Products Expo West is my favorite trade show on earth. It's like walking through Whole Foods but you can talk to all of the amazing people who created the products and learn more. People make fun of me for getting as geeked out about this as I do but c'est la vie!
Here are some of S&Co's top 10 favorite products/moments/finds from the 2014 Expo West…
10.  JEM Raw Organics – I met JEM last year. Most delicious, flavorful and creative nut butters. The only problem is that once you have a jar, it's gone in a flash.
9.  Caliwater Cactus Water – This is the newest of the waters and it's exciting to see someone exploring the benefits of the prickly pear cactus (a friend of mine recently launched RESQWATER which uses this ingredient as an anti-hangover option).
8. LOV tea – love the name, packaging and design – and the samples were delish.
7.  Quinton – Quinton seawater electrolytes work miracles and you'll have to check out the website to learn more.
6.  Hak's Honey Mustard Sauce – love the brand and the man behind it (MasterChef star Sharone Hakman) and the product is delicious.
5.  Mary's Gone Crackers Sea Salt Pretzels – just like everything this company makes, their new Sea Salt Pretzels are delicious and happens to be organic, gluten-free and vegan.
4. Enzymedica Digest Gold with ATP – this is a product from last year but I can't help but mention it again. I'm obsessed with this company.
3. Mamma Chia Squeeze – I have been a fan of Mamma Chia from the get-go and it's exciting to watch them grow and launch new products each year. Chia continues to thrive as is evidenced by lots of chia products at Expo, but Mamma Chia stands out as a pioneer in the category and the products taste great.
2. Date Lady – I had to stop at the Date Lady booth – amazing branding, dates are delicious, and their date sauce products are an innovative use of them. Great for yogurt, ice cream, even pancakes. Yum!
1. Perky Jerky – this is a delicious energy-infused, high-quality jerky started by my college friend, Brian Levin. I'm so impressed by what Brian has done in building the brand to date and couldn't have been more excited when I saw him at Expo West. Plus, another college friend (Art) was on hand as the Jerk Man. Amazing!
Posted on: March 28, 2014