FDA And First Lady Announce Proposed New Food Labels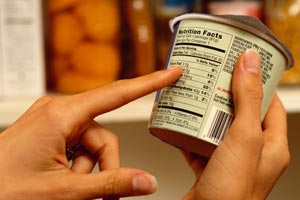 First Lady Michelle Obama unveiled the Food and Drug Administration's proposed new food labels February 27 in coordination with the fourth anniversary of the Let's Move Campaign.
These changes—the first in two decades—would highlight concerns about obesity and the quality of the American diet.
"This is a huge deal," Obama said. A consumer "should be able to walk into a grocery store, pick an item off the shelf and tell whether it's good for your family."
Over the next 90 days, everyone from "food manufacturers to dieticians" has the opportunity to comment on two proposed labels.
Changes to the food labels include the following:
• Calorie counts will be in bigger, bolder print than other facts.
• Grams of added sugars, whether they come from corn syrup, honey, sucrose or any other source, will be shown in one number.
• Serving sizes will reflect portions people typically eat, as shown by studies — meaning they will be bigger than serving sizes are now on many products.
• "Calories from fat" will be gone, while total fat, saturated and trans fats remain, reflecting science showing the type of fat people eat is more important than the amount.
• Labels will list vitamin D and potassium instead of vitamins A and C, reflecting shifting concerns about common deficiencies in American diets.
Overall, the reaction to the new labels has been positive. However, the FDA is still expected to test the labels with consumers, a crucial step in the overhaul. Initial criticism cites the cost of rolling out changes, as well as the call for listing added sugars by food companies.
To read more on the new food labels, check out the full article by USA Today.
Posted on: March 28, 2014