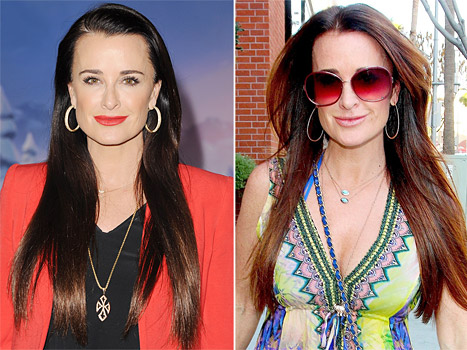 What's the Secret Behind Kyle Richards' Gorgeous Hair
Redheads, unite!
While the drama heats up on the three-part Real Housewives of Beverly Hills reunion (part two airs on Bravo on March 24), Kyle Richards is showing off a fiery new hue.
The Hungover actress, 45, has jumped on the red hair bandwagon, as she debuted her new auburn locks while stopping by her Beverly Hills boutique, Kyle by Alene Too on March 17.
PHOTOS: Real Housewives plastic surgeries — before and after
Joining newly dyed redheads Molly Sims, Kate Bosworth, and Holly Madison, Richards' hair makeover is a change from her signature dark brown locks. While the mom of four tweeted that she has indeed gone "reddish" on Twitter, she didn't give any explanation as to why.
Although she's tweaked her hair color, Richards' near waist-length strands remains as shiny as ever. In fact, she depends on a drugstore product to maintain her healthy hair. "People assume I use the most expensive shampoo and products, and the truth is, I use Pantene," she has said. The brunette beauty also relies on Nourage vitamins to boost shine and strength.
For more information on Nourage, please click here.
Source: UsWeekly
Posted on: March 28, 2014