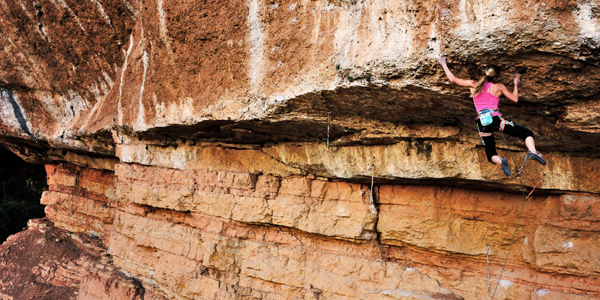 Up2Us Launches National Ambassador Program With World Champion Rock Climber Sasha DiGiulian
Up2Us (up2us.org), a national not-for-profit organization leading the movement to promote sports as the solution to the critical challenges facing America's youth, announced today the launch of its Ambassador Program and the signing of World Champion Rock Climber, Sasha DiGiulian, as its first Ambassador. Up2Us' Ambassador Program offers professional athletes and coaches the opportunity to align with and support the organization in its efforts to promote sports and place highly trained coach-mentors in sports-based youth development (SBYD) programs in underserved communities nationwide.
As an Ambassador, DiGiulian will have a platform to share her own experiences in rock climbing and connect with kids to demonstrate how sports can be used to support healthy activity, inspire success, and create better opportunities.
"I believe in the power of sports and coaching to transform the lives of our country's youth. I know what rock climbing did for me to instill the importance of goal setting and discipline," said Sasha DiGiulian, three-time National champion rock climber and Up2Us Ambassador. "Every kid deserves to play sports and have someone who believes in them and supports their goal to be successful. That's why I became an Up2Us Ambassador."
Up2Us trains and places the nation's best and brightest coach-mentors in cities across the country through its Coach Across America (CAA) program. These coaches bring sports-based youth development to many underserved communities and help inspire children to be leaders and contributing members of their communities. CAA coaches understand that every program session, practice, or game is an opportunity to teach a lesson that can impact a child's future.
In 2013, approximately 536 CAA coaches served 53,600 kids. After leaving the program, 86 percent of youth surveyed reported a high competence on a set of skills that contribute to healthy decision-making. Among programs that collect academic data, 96 percent of coaches reported that the youth in their programs improved their grades.
"We are so thrilled to welcome Sasha to the Up2Us team. Having directly experienced the positive impact of sports in her life, Sasha knows first-hand the unique role quality youth sports programs can play in helping kids acquire the life skills they need to live healthy, happy, successful lives," said Paul Caccamo, founder and executive director of Up2Us. "As the world's best female rock climber, and student at Columbia University, Sasha has accomplished extraordinary goals. As an Up2Us Ambassador, Sasha will have the opportunity to inspire millions of our nation's youth to believe in themselves, set goals, and aspire to new heights."
Posted on: April 16, 2014