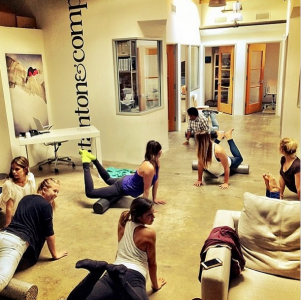 Rollin' with the Homies: An Introduction to Foam Roller Fitness
By: Amanda Martinez
When Amy first introduced the idea of doing a roller class with the office, my initial thoughts jumped to Clueless and the Brittany Murphy/Coolio "Rollin' with the Homies" scene–naturally.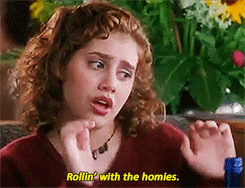 Needless to say, the type of rolling the S&Co office would be doing was a big departure from what I had in mind.
At the end of a long workday, we couldn't be happier to welcome Lauren Roxburgh, one of the country's premier mind-body experts, into the office. (Oh, and did I mention she's one of Shape Magazine's Hottest Trainers in 2014?)
Dubbed the "body whisperer" by her loyal client following of celebrities and professional athletes, Lauren came prepared to give the S&Co team a full-body workout using her secret weapon: the foam roller.
While that little foam roller may look harmless, it packs a mean punch. Not even 5 minutes into the workout and we were already breaking a sweat and feeling the burn. But beyond toning up our bodies and rolling away the cellulite-yes, it is possible—Lauren helped us transform our minds, too. In 30 minutes I felt refreshed and balanced, something I could certainly appreciate as the day winded down.
As the social media and editorial coordinator, I spend quite a bit of time behind the computer. It's easy to tense up and feel a little "stuck" from a long day of sitting. I loved learning how the foam roller can become your own personal masseuse to realign the body and release the toxins that cause our muscles to stiffen.
Perhaps the biggest takeaway from the roller class was just how easy-and, more importantly, accessible-foam roller fitness is. And when we're all trying to juggle a million personal and professional obligations, accessibility is key to fitting it all in.
Who knew a simple foam roller could do all that? Personally, I'm hooked. Can't wait for another great session rollin' with the homies.
Ps. To learn more about Lauren and get rolling with her, check out her website & follow her on Twitter and Facebook for great fitness & health advice!
Pps. Are you following S&Co on Instagram yet? If not, what are you waiting for? Follow along our adventures here or follow us @stantoncompany.
Posted on: April 17, 2014