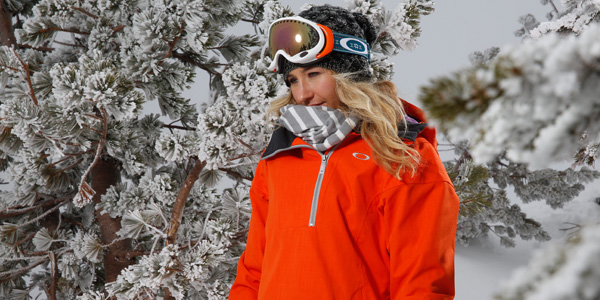 Gretchen Bleiler's 9 Best Ways to Live Green
As one of the most recognizable names in women's snowboarding, Gretchen Bleiler is putting her fame to good use. Bleiler, a devoted environmentalist, works tirelessly with nonprofits and elected officials to campaign for smarter greenhouse-gas regulations and encouraging the masses to eliminate mindless waste. Rodale.com recognized the eco-conscious snowboarder for her go-green ambitions and tapped Bleiler to compile nine ways to make a difference in the environment.
The list was so great, we couldn't help but feel the need to re-share!
Gretchen's 9 Best Ways to Live Green
I'm on the board of POW, Protect Our Winters, and we've come up with a list of actions that we feel are the best and most effective way for you to make a difference. It's called the POW Seven Pledge, and then I'm adding two more! Check it out and spread the word.
#1: Educate yourself. Start here: NASA's page on Climate & Global Change. Then read books that spark your interest and get you motivated and passionate to share your new knowledge! I love Cradle to Cradle and An Inconvenient Truth.
#2: Take the 21 Day Reusable Challenge this Earth Day, April 22nd. The idea is that it takes 21 days to build a habit, and the project encourages everyone to eliminate disposable plastic water bottles, plastic grocery bags, and Styrofoam containers for 21 days, and to use social media to spread the word and encourage friends and family to do the same. Check it out on Facebook atfacebook.com/21dayreusablechallenge.
#3: Change your life and save money. Do everything you can to clean up your carbon footprint. Ride the bus, get a more efficient car, insulate and seal your house, tune up your furnace, buy an energy-smart appliance, change your lightbulbs to CFLs, use a clothesline instead of the dryer, turn your water heater down to 120 degrees—you get the idea!
#4: Be vocal, bug your friends. Speak up about climate change to friends, family, and coworkers. Share this list and get everyone involved. Host environmental documentary showings (like Tapped or An Inconvenient Truth) and talk about ways to make a change, as a group…over drinks!
#5: Find your biggest lever. Every single one of us has the unique opportunity to create awareness and influence change! Ask yourself, how can you as an individual have the most impact on solving climate change. Can you join your town council and change building codes? Can you run for your utility board? Are you a teacher or a journalist? If so, add climate science to the curriculum and to your reporting. Do you have a powerful friend? If so, talk to him or her. Are you a purchasing director? If so, ask suppliers what they are doing about climate change.
#6: Get political. I write and email our elected officials and ask them to take action on climate change by putting a price on carbon and supporting clean-energy legislation. By telling them they will lose your vote if they don't have a climate action plan, you can make a difference. Here's contact info for the U.S. Senateand the U.S. House of Representatives. Don't vote for candidates who deny climate science or oppose action. Your local League of Conservation Voters ranks U.S. candidates on their environmental positions here.
#7: Talk to businesses. Ask your favorite businesses what they are doing to solve climate change. It's important that businesses know that you care and will support businesses that are climate leaders. Do your homework. Use the Good Guide before you shop; the researchers who compile the guide rate companies on their energy use and climate-change mitigation strategies.
#8: Join an environmental organization of your choice. There are so many awesome groups out there that are making a difference. I recommend joining POW (protectourwinters.org). And you can head to the site get more details on this POW Seven Pledge.
#9: Get outside more so you can remember what you're fighting for!
Read the original post at Rodale News.
Posted on: April 28, 2014