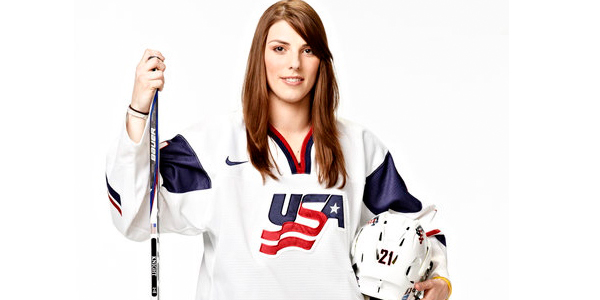 Knight Named Bob Allen Women's Player of the Year
ADISON, Wis. – Former Wisconsin standout Hilary Knight will be honored with the Bob Allen Women's Player of the Year award at the USA Hockey 2014 Annual Congress on June 4 in Colorado Springs, Colorado.
Knight becomes the third Badger to win the award, as Meghan Duggan was the award recipient in 2011, while Jessie Vetter earned the honor in 2009.
A native of Sun Valley, Idaho, Knight tied for the U.S. scoring lead with six points and was named to the media all-star team at the 2014 Olympic Winter Games in Sochi, Russia, helping Team USA capture silver. During the build up to the Olympics, Knight put her talents on display at international events across North America. During the 2013 Four Nations Cup, the former Badger star record three goals and five points in four games to finish in a third-place tie among all players in the tournament. While skating for the U.S in the Bring on the World Tour, the two-time Olympian was tied for the team lead with six goals in 10 games and tied for second on the squad with 10 points. She recorded three multi-point games, including a three-point effort against Canada on Dec. 28, 2013, where she also tallied the game-winner in a shootout and was honored as the player of the game. In 2013, Knight became the first U.S.-born player to win the Canadian Women's Hockey League's Most Valuable Player Award.
During her career at Wisconsin, Knight helped the Badgers win two national titles and left Wisconsin as the program's all-time leader in career goals (143), points (262), power-play goals (37), game-winning goals (30), plus/minus (+167) and hat tricks (9). Knight was a three-time AHCA Division I All-American and was the WCHA Player of the Year in 2009.
The Bob Allen Women's Player of the Year Award is bestowed annually on a top U.S. women's hockey player at the international, collegiate, high school or club level.
Source: UWBadgers.com
Posted on: May 23, 2014