Traveling with My Daughter, Brisa Hennessey
By Katie Hennessey
I never imagined I would be traveling around the world to surf competitions with our daughter.  Honestly my husband and I just prayed Brisa would love to surf when she was born.  We were selfish.  We both love surfing and it's a huge part of our life and we wanted Brisa to love it too.   Well she not only fell in love with it, but she has a talent we couldn't have dreamed of and now we are given this amazing opportunity to travel and to experience so many different places and cultures and meet so many amazing people.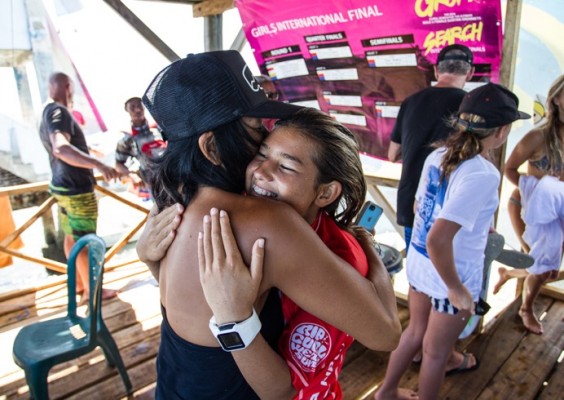 Our family you could say comes as a package ;).  We have always done everything together and I mean everything.  Traveling was nothing new in our family as we had lived in Costa Rica for 14 years and Brisa was born there.  We first took Brisa out of Costa Rica at 2 months old.  We then made a trip to Tahiti with friends when she was 9 months old.  We have a blast together and try to enjoy and see and experience each moment in life to the fullest.  I guess we try to live by my husband's motto which is  "you can sleep when you're dead."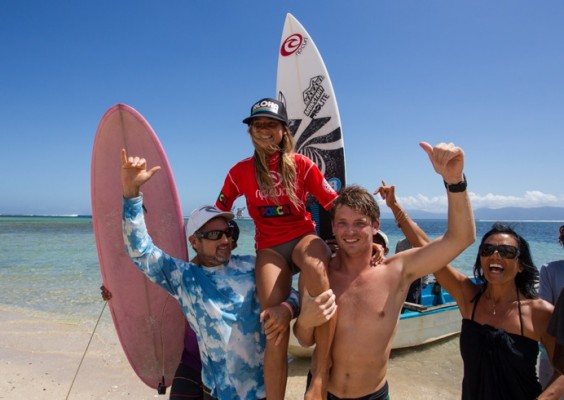 So from the beginning of Brisa's surfing career we have traveled to almost every surf competition together.  Whether it was a local comp in Hawaii or to an outer island or to California or Indonesia we go as a family.   This last year we have been fortunate to travel outside of the country with Brisa for surfing.  We went to Guam, Fiji, Mexico and Indonesia this year.  We are pretty lucky because we really travel well together.  I'm not saying there aren't some stressful moments or little arguments, but on the most part we all are able to work together and be flexible and open to changes and can flow with pretty much anything that comes up!  We feel pretty blessed.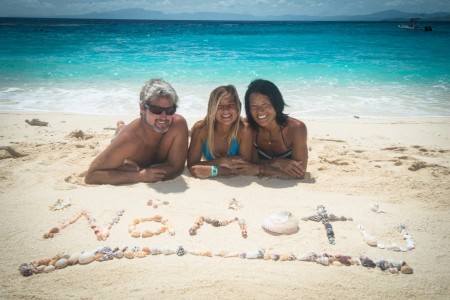 Brisa has always been a smart and easy traveler.  She never liked planes growing up and her solution was to just go to sleep.  I can still remember waiting in the airport when she was about 3.  She was bouncing around and would ask me every once in awhile if we were leaving on the plane yet.  If I would say no she would continue dancing and playing.  The minute I said we were about to leave, she would put her head down and just go to sleep.  I would carry her on board and she basically would sleep the whole way!  I think it is her way of time travel.  She goes to sleep and when she wakes up she is there!  😉  She still sleeps pretty much the whole flight even to this day.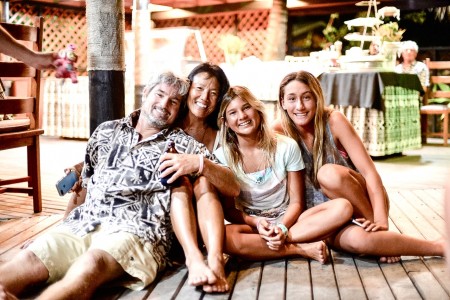 Traveling back and forth to Costa Rica sometimes we would have to stand in line for hours and hours waiting to get through security and customs and Brisa would happily be sleeping on top of all of our boxes and surfboards as we pushed our way through the different stations.
Typical surf comp day on the road:  I am up at 4:30 a.m. making food for the day and getting together the video camera, cooler, snacks, water, wetsuits, towels, chairs, tent, etc.  We have a pretty good surf checklist after doing this a thousand times!  Brisa checks her boards and equipment and sets out all her things for the morning before she goes to sleep.  Mike is up at 5 and packs the van.  We wake up Brisa just before we leave around 5:30 and we are off.  We arrive at the comp usually before sunrise and Brisa goes out for a pre-warm up surf while we set up.  We are there all day.
This year for Mother's Day we were in the island of Sumbawa in Indonesia.  It is very rural with very little internet.  We all basically forgot it was mother's Day! When we realized, we hugged and said Happy Mother's Day and Brisa picked me a wild bouquet of flowers!  It wasn't a big deal.  I guess you could say we celebrate every day!  Just being together is gift enough.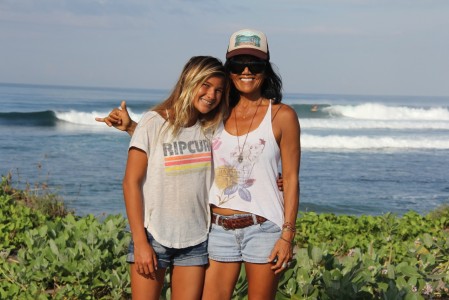 Posted on: May 29, 2014