Good Eats: 8 Unique Pack-Worthy Trail Snacks
Do you—like us—stand before the behemoth bar aisle with boredom? In an effort to stuff your pack with curious, highly edible, energy-packed trail snacks this summer, we've tested an array of wild and wooly (well, kind of) prepackaged and portable eats.
Here's what surfaced as our clear favorites. We hope you enjoy them, too—and that they deliver a much-needed kick to your energy-boosting trail meal repertoire.
I took my first bite with trepidation. While I'm all for Paleo-friendly, gluten-free, high-protein snacks, it just doesn't get any more unique than an energy bar crafted of turkey, beef, or bison. While there's no doubt that EPIC's 100-percent grass fed bars ($34/case of 12) are truly meaty in both texture and taste (and the bison is a bit game-y), they're a slam dunk for meat lovers. My fav was the Beef Habanero Cherry Bar, which was like indulging in a burger infused with a slightly sweet kick. It also happens to be packed with Omega-3s and vitamins E and B12.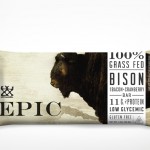 Sometimes the thought of one more sweet energy snack is enough to make you want to hurl your bars into the bushes. Enter Journey Bar (about $2 per bar), a series of gluten-free, soy-free, vegan savory bars made of whole grains like quinoa and amaranth plus almonds, herbs, and spices. Flavors include sesame ginger, rosemary, and pizza marinara, and the texture falls somewhere between a soft cookie and a biscuit. At first, the taste of a savory energy bar was jarring, but a few moments later, one tester realized it went down pretty darn easy. —Kate Siber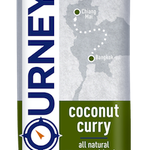 Squeezies aren't just for toddlers anymore. Today, pro athletes (especially cyclists) are packin' portable pureed fruit in squeezable packs to deliver quick and efficient energy—sans all the processed sugar in energy gels that will send you straight to the dentist's office. In this genre, we love the gluten-free and vegan Mama Chia's Chia Squeezes ($11.99, pack of 6), which include Wild Raspberry, Mango Coconut, and Blackberry Bliss. While the texture of the chia seeds going down with the pureed fruits and veggies conjures memories of bubble tea, the taste is delicious—and packed with Omega-3s and fiber.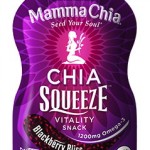 Setton Farms Pistachio Chewy Bites
Toss together pistachios and cranberries with a touch of agave nectar and you've got the yummy recipe for this on-the-go snack bar ($5.99 for a 6-pack). We like the mini size of each bar; less commitment. Pistachio Chewy Bites also happen to be gluten free and dairy free, low in sodium, GMO free, and vegan. They also have no cholesterol, zero trans-fat, and are a good source of dietary fiber.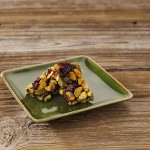 Navitas Naturals Dragon Fruit Slices
A sweet little slice of the tropics delivered courtesy of the fine folks at Navitas Naturals, these dried Dragon Fruit Slices are ultra tasty, albeit a bit of a splurge (3oz., $8.99). This exotic superfruit has unusual nutrition benefits, including Omega-3s, protein, iron, fiber, vitamins, and minerals that support hydration. A product of Thailand, these chewy purple slices have a sweet flavor akin to kiwi fruits. We also love Navitas new line ofSuperfood+ Seeds and Nuts—we've been noshing the organic rosemary-and-garlic-laced Chia Pepitas (4oz., $5.99), which are packed with protein, Omega-3s, and minerals.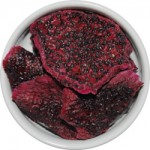 Vermont Smoke and Cure Turkey RealSticks™
Back in the savory camp, these smoked turkey sticks slide perfectly into your pack and we found them to be a deliciously salty snack during a long ride or hike. Appealing to your conscience, the turkey is humanely raised. Appealing to your palate, the RealSticks ($29.95, box of 24) unique flavor roundup includes Turkey Ancho, Turkey Honey Mustard, and Turkey Uncured Pepperoni. They also happen to be free of gluten and artificial additives—no antibiotics, hormones, sodium nitrite, preservatives, soy or MSG here.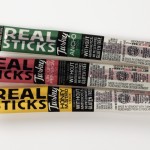 If you're bored of bars but still love sweet and simple snacks, Pure's tasty Fruit Sandwich ($1.09 per .63 oz. bar) might be the perfect addition to your pack. This triple-layered soft and chewy fruit bar is made of fruit purees and juices sans sugar—they are surprisingly satisfying. They also happens to be certified organic, vegan, and free of both GMOs and gluten. Pure also makes a roundup of tasty, organic bars that pack in a serving of Ancient Grains that deliver a crispy texture.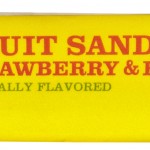 Okay, these won't pack well (unless you like to funnel tasty crumbs into your mouth), but they will wait patiently in your vehicle for a post-ride, post-hike, or post-run fill-up. Crafted with chickpea flour, safflower oil, and sea salt, they are a salty, crunchy, healthier option to potato chips. They are also gluten free and free of trans fats, GMOs, preservatives, and artificial flavors and colors.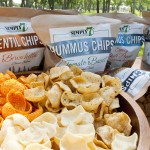 Source: Women's Movement 
Posted on: June 2, 2014