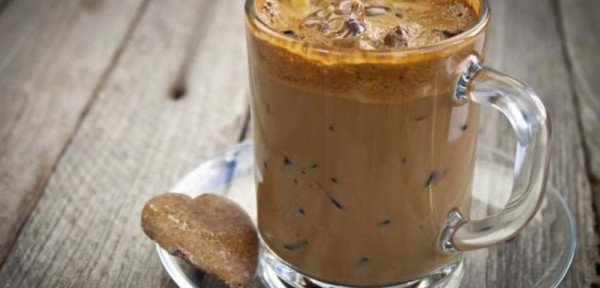 Drink This: Vegan Iced Almond Latte
Stay cool with this drink thanks to contributor Veronica Bosgraaf.
Almond milk is my new vegan obsession. It has achieved a permanent top shelf placement in my crowded refrigerator because it is versatile, so healthy and very delicious. From pouring it over granola and oatmeal in the morning to using it to make delicious and nutty chocolate milk and create endless creamy smoothies and vegan ice cream with my kids, it is my delicious replacement for all things dairy.
In a perfect world I would always make my own almond milk, which by the way is not nearly as time or labor intensive as you may think, and actually fun to do (recipe here). But if time doesn't permit, there are fortunately many varieties to choose from at the store. I always look for organic brands! When I'm lucky enough to be in Venice, CA I can even buy homemade almond milk from the Mylk Man.
Almond milk provides magnesium, calcium, protein and fiber. It is more easily digested than cow's milk, and is better for the environment because for every pound of cow we have to maintain, it takes 12 pounds of grain, 55 square feet of land and 2500 gallons of water. It's much friendlier to our earth to raise almonds! I also love the flavor. It has a creamy, rich nutty taste that is much more exciting than regular milk or even its vegan counterparts like rice or hemp milk. If you haven't gotten to know almond milk yet, don't wait another day! It's ok to indulge. Almond milk is a vegan staple in our house and makes no dairy a no-brainer.
Vegan Iced Almond Latte
1 cup almond milk
1 cup coffee ice (freeze coffee in an ice tray)
½ a small avocado
1 tsp raw cacao powder
1 small banana
Blend all ingredients in a blender until creamy. Serve over coffee ice. The avocado in this recipe provides a rich creamy flavor while adding folate, vitamin E and healthy mono saturated fats.
For more information on Veronica Bosgraaf, Pure Bar Founder or to sign up for her weekly newsletter visit ThePureBar.com.
Source: World Lifestyle
Posted on: June 3, 2014