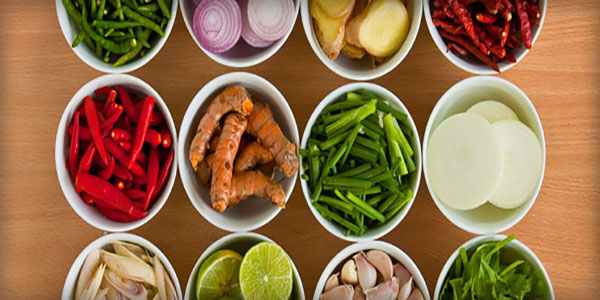 Cooking with Pure Founder, Veronica Bosgraaf: Homemade Thai
By Veronica Bosgraaf
I first became obsessed with Thai food on a trip to New York a few years back. My friend and I ducked into a small Thai restaurant in Manhattan for a quick lunch and I was served one of the best coconut curry dishes I have ever had. True to form, I vowed I would learn to make it myself! It only took me three years to get around to it, but I finally put my foot down this weekend because I'm going out for Thai food way too much. I needed to bring this recipe home into my own kitchen!
I love creating my own version of recipes because I can customize the flavors any way I want. For the sauce I started by slowly simmering onion in coconut oil. The key is to let the onions cook slowly in the oil, covered, so the flavors blend together. I wanted to build this recipe using ingredients I already had in the house so I could whip it up fast without having to run around town looking for exotic foods. I also wanted to be able to use different veggies and rice if needed, so I made a sauce that could be matched with a variety of other ingredients.
I made this for my family of five, and it was a big hit. I may double the sauce recipe though next time because I like A LOT of sauce with the rice and veggies. Otherwise, it was perfect!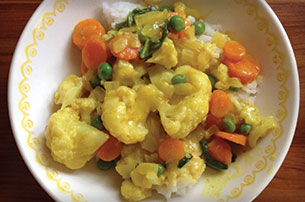 Vegan Coconut Curry with Vegetables
Sauce:
1 1/2 tablespoons coconut oil
1 medium onion chopped
1 can of coconut milk
1 tablespoon maple syrup
1 tablespoon curry powder
1 teaspoon powdered ginger
1/2 teaspoon sea salt
1/2 teaspoon turmeric
2 teaspoons tapioca powder (to thicken)
1/2 cup chopped basil leaves
Melt the coconut oil in a saucepan over low heat. Add the onion, cover, and simmer on low for 10-15 minutes. Add the coconut milk, maple syrup, curry, ginger, salt and turmeric. Heat on low until mixture simmers. Mix in tapioca starch until dissolved. Remove from heat and stir in the basil.
Vegetables:
1 small head cauliflower chopped
3 medium carrots sliced
2 cups snap peas
Directions:
Place 2-3 cups water in a pan. Bring to a boil over high heat. Add vegetables and simmer for 10 minutes, or to desired consistency. Drain.
Pour the sauce over the vegetables and mix well. Serve with rice.
For recipes, tips and creative ideas check out our Instagram and Pinterest pages
Posted on: June 11, 2014