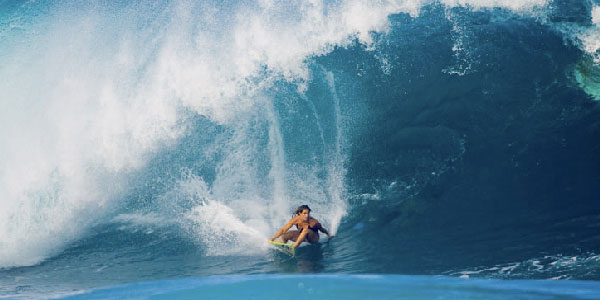 Claire Bevilacqua Wins First WA State Championship in Over a Decade
In the Open Women's final, Claire Bevilacqua wound back the clock to claim her first WA State Championship in over a decade. The former ASP Women's WCT competitor used every ounce of her experience to post a 14.50 combined total.
Bevilacqua let her natural surfing ability do the talking, defeating a new generation of WA female surfer sincluding Bailee Hastie, Phoebe McGregor and Marnie Durant.
"I love Rottnest and competed here a lot in the Junior Series growing up. I'm motivated to encourage and support the next generation of female surfers in this state and they all pushed me claim this State Championship here today," says Bevilacqua.
Josh Burke the Under 21 Pro Junior State Championships. Burke obliterated any wave that offered a vertical section, posting the weekend's highest combined score of 16.27.
"I'm pretty happy with the win considering the conditions. It was pretty tough going out there but to have swell and claim consecutive titles makes the trip over to Rotto a worthwhile one," adds Josh Burke.
HIF Pro Am Series 2014 | Western Australia State Championships
Open Men State Champion: Shaun Howe (Geraldton)
Open Women State Champion: Claire Bevilacqua (Yallingup)
Under 21 Pro Junior State Champion: Josh Burke (Margaret River)
Over 35 Masters State Champion: Paul Paterson (City Beach)
Over 40 Senior Masters State Champion: Jake Paterson (Yallingup)
Over 45 Grand Masters State Champion: Todd Taylor (Yallingup)
Over 50 Legends State Champion: Adrian Shepherd (Alabny)
Source: SurferToday.com
Posted on: June 23, 2014