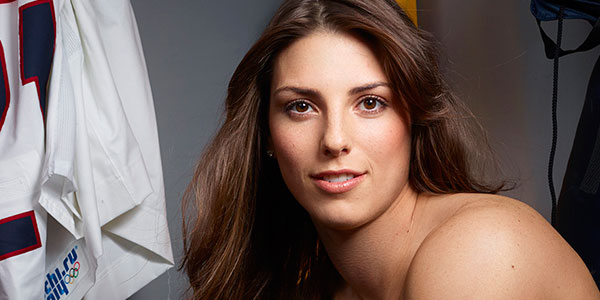 Body Issue Behind the Scenes
By Hilary Knight
A year ago I turned to one of my teammates and was like, "It would be so cool if I could do the ESPN Body Issue. That would be a dream." So when they called me a few months ago and asked me, I didn't even hesitate. I told them, "Absolutely, I'll do it!" Then, after I got off the phone I was like, oh my gosh, what did I do?
Telling my family was another thing. Surprisingly, my mom was like, "Yay, this is great!" She's this really conservative woman, so I thought she would be the hard one to break the news to. But it's my dad whose first reaction was, "Oh my gosh, why are you doing this?" I had to tell him, "No dad, it's not like that. It's done in a tasteful way." But he's just picturing me as his little girl. I actually think it's going to be roughest for my three younger brothers. Their guy friends are definitely going to give them a hard time. But I guess that's what you get when your sister poses naked for a magazine.
When I got to the shoot, there was all this food. I can't even remember what it was — except that there was bread and I was staring at it. I really wanted that bread, but I was like, "I shouldn't even eat." But I did. While they did my hair and makeup, I was joking around about how usually when I get hair and makeup done, the next thing is playing dress-up. But this was more of a dress-down kind of thing.
It's definitely a little daunting at first. You're there with eight people you just met, and you don't really know what to expect. Like, when does the taking-off-the-clothes part happen? Everyone was super-supportive and nice. I told them I'm a very shy person and I rarely even get naked in front of my own teammates, but they promised me that in five minutes I wouldn't even notice I was naked anymore. They were right!
I was surprised how comfortable I felt around everybody. I mean, I've got a body, they've got bodies. What's the big deal? I think they were begging me to put the robe back on by the end!
The whole day was like this big game of "never have I ever." As in, never have I ever … been on a skating treadmill naked! That one was definitely interesting. It had an incline and you're trying to keep up with the speed but also trying to relax your face while looking over your shoulder. It was a challenge, but also so fun. My only rule was nobody could stand behind me.
Then we went out on a rink, where they photographed me skating out and shooting a puck (never have I ever skated on an ice rink naked!). Then we did some shots in the locker room and some more outside in the parking lot with a giant tire. Let's just say I crossed a lot of things off my bucket list.
Body Issue: Hilary Knight
More from the U.S. hockey star's day in front of the cameras for ESPN The Magazine:
Infographic: How she got that body »
The shoot

Posted on: July 8, 2014