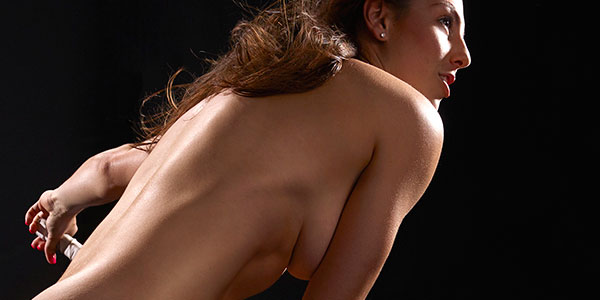 Team USA's Hilary Knight poses for photos in nothing but skates
Hilary Knight has been garnering attention on the ice for years.
As a college athlete, she was a three time D-I All-American, the Western Collegiate Hockey Association Player of the Year and a national champion at the University of Wisconsin in 2009, and graduated as the Badgers' all-time leader in goals (143), including a university-high 30 game-winners.
Representing Team USA, she's collected two silver medals at the Olympics and was the co-leader in scoring for the Americans at Sochi with three goals and three assists in five games.
But now the Boston Blades forward is also getting noticed away from the rink, posing nude for the ESPN The Magazine Body Issue as the only hockey player on this year's list of athletes. Knight provided ESPN (read more here) with her thoughts on the female figure and a little background on her physique:
"I had this idea that muscular isn't feminine. There is this image of athletic women as small and petite — the yoga body type. Women in general, we tend to shrink ourselves and not have as much confidence as we should in presenting ourselves and our body types. It's OK to be fit and healthy and comfortable within your body, whatever frame you have. Since gaining 15 pounds to be at the top of my sport [for the Olympics], I've tried to shatter the body image that muscular isn't feminine." 
Posted on: July 9, 2014