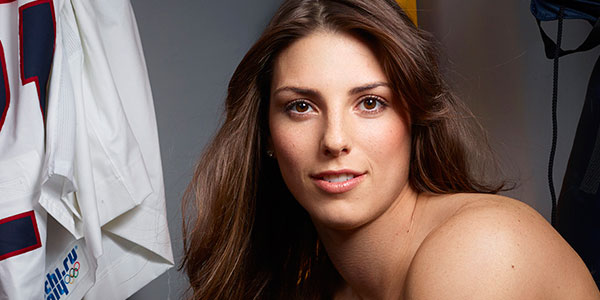 On Body Image: Hilary Knight Talks ESPN's Body Image
By Hilary Knight
Not long ago, I received a call from ESPN. Only this call was not an ordinary inquiry for an interview. Instead, ESPN wanted to know if I would be a part of the next Body Issue. There was a pause at my end of the phone line. I was silently fist pumping and dancing with joy. My silent, one-ended and lonely celebratory dancing felt as though it took me minutes to respond, but I quickly chimed in to the request with an ecstatic "YES!!" As soon as the phone conversation was over, my mind went off on numerous tangents. Wonderful thoughts filled my brain–I was excited.
For years, I had grown up being ashamed of my athletic figure and embarrassed by my strength. From an early age, I was always bigger than what society had identified as average. Petites were a size I was supposed to fit in to at one point…right? Sizing, numbers, clothes…not my style, not my jam. There was no "Knight Size." I thought I skewed the typical women's sizing before. Now gaining 15 pounds of muscle leading into the 2014 Winter Olympics sure added to a greater athletic build.
At first, the task of gaining weight was a bit daunting. I was scared that I would lose the femininity that I earned from birth. I was scared that I was not going to be embraced as a good, active role model for girls and women all over the world, both hockey players and non hockey players alike. Being 5'10 and 185 pounds did not scream sexy to society, so where would I fit in?!
The answer is simple: I did not fit into a pre-set stereotype. I will help recreate and continue to promote a healthy image. The new found stereotype: Strong is sexy.
The moment of saying yes to ESPN Body Issue seems like milliseconds when compared to the nervousness of actually skating in front of a film crew naked (I'll think about the millions of viewers later). I said yes because it was such an amazing opportunity to help inspire many people all over the world. It helped Women's hockey and it pushed me out of my comfort zone. I am a shy person, rarely even taking my shirt off at the beach. I had to muster up enough courage to strip down and just do it, because I knew if I did a good job, a single picture could positively impact and change someone's life.
My mantra is Dare to be. On set of ESPN Body Issue I Dared to be BOLD.
Follow Hilary on Twitter and Instagram to keep up with her!
Posted on: August 18, 2014