Products We Pine Over: Pro-Tec Y Roller
By Lauren Roxburgh
The Pro-Tec Y Roller is a shorter high density foam ridged roller that can effectively self-massage parts of your body like your upper back, shoulders, hips, calves and ITBands to help release tension in your connective tissue and joints, plus also work out kinks and knots throughout your entire body. The Y roller is an amazing stand-in when a hands-on massage doesn't fit your schedule or budget.
Another amazing roller is the Pro-Tec EVA Roller. This roller is longer and a bit softer and doesn't have the y-shaped ridges that work so well for massage, but it's the perfect strength-training and sculpting tool, targeting the intrinsic muscles you want to tone, like your arms, abs, thighs and butt. It can even be used to mimic some of the same moves done on a Pilates Reformer to tone and elongate your core muscles and improve posture, giving you that long, lean, sculpted look.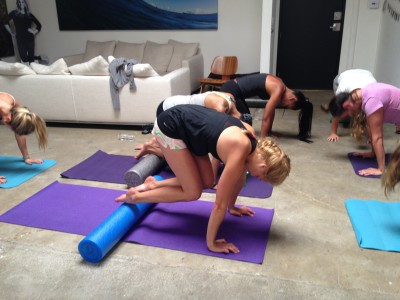 (Pro Climber Sasha DiGiulian doing the "Shell Curl" on the Pro-Tec Roller)
Both rollers are great tools that I use on a daily basis – and I recommend them for all my clients. They're cheap, easy to use at home in the office or on the road and I guarantee if you use them for just 10 minutes a day you'll both look and feel younger and healthier.
____
Lauren Roxburgh is considered one of the country's premier fitness experts. Dubbed the "Body Whisperer" by her loyal client following, which includes numerous celebrities and professional athletes, Lauren has studied health and wellness on many levels, with a degree in nutrition and exercise science, certifications in Pilates and pre- and post-natal yoga. She is a structural integration practitioner (fascia expert), and a Thai-Yoga Massage therapist.
Posted on: August 18, 2014