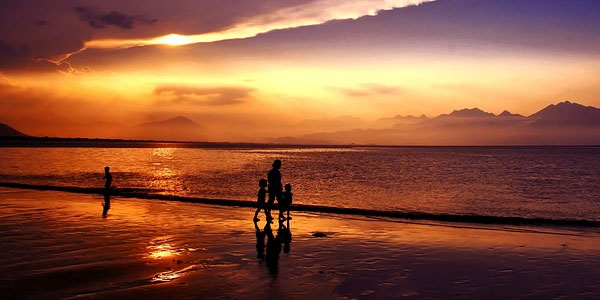 Fueling the Conversation Around Body Image
By Amy Stanton
One of the reasons I started Stanton & Company was to help raise awareness around positive role models for women and young women. Now, more than ever, women are doing, and talking about important things and we should all be doing what we can to help bolster each other.
Body image has always been a hot topic for girls and women. From a young age, we're bombarded with messages from the media, other girls and our moms about how to dress, how we should look and the importance of looking good. Growing up in LA also had a huge effect on my perception of "normal" bodies. These days there's far more emphasis on health and well-being (or at least I'm far more aware of it), but back in the day, I thought that skinny was normal. And I was never skinny.
I was also never an "athlete." While I was the captain of my tennis team in high school, until I was in my early 20s I couldn't run a full mile without feeling like I was going to die (ironic that I went on to run marathons!). I was never good at team sports like soccer and volleyball. Plus, I never loved my body in high school – among other things, I thought my tennis arms were too strong and big. And I wished I was one of the skinny girls.
That said, playing tennis made me feel happy, athletic and strong. In a rigorous and intense high school environment, tennis gave me a physical outlet and allowed me to be outside in beautiful SoCal weather every day.
And, now is no different. As an adult and especially as I age gracefully into my 40s, everyday exercise remains key to my happiness, health and peace of mind. It is truly one of the main keys to my personal sense of self and success… feeling physically healthy and strong is the baseline and gives me the energy and prepares me to handle the many challenges around running a business and life in general.
I could certainly never imagined that my high school tennis was a seed that would eventually inspire me to build a business with a focus on women's sports.
Working with so many amazing women in the sports and fitness industry, body image is a constant conversation. ESPN's "the Body Issue" created an opportunity for male and female athletes to show their gorgeous and gifted bodies in a new way… as athletes, not as objects of desire. We have been big supporters of the Body Issue and a number of our clients including Gretchen Bleiler, Carmelita Jeter, Jessica Mendoza, Kristi Leskinen, Claire Bevilacqua, Steph Davis, and most recently Hilary Knight, have been featured.
One of the things we're most proud of is our work with espnW to create the espnW Summit, a two-day event focused on bringing together 275 influencers in the women + sports space all geared towards advancing the agenda of women in sports. This event fosters a healthy and honest conversation around a variety of key topics, body image being one of them.
Looking around at the current marketing landscape, it's exciting to see big brands like Always and Under Armour fueling a positive conversation about strength and feminine power.
Plus, there's a recent movement of celebrities posting unretouched photographs to show what's real and what's not. While the response to this may or may not encourage more of this, I love the intention behind it and we recognize that celebrities have the power to influence the masses faster and in a bigger way than anyone (for better or worse!). Liz Arch, a superstar yogi and founder of PrimalYoga, did a photoshoot entirely focused on showing her real body…no retouching.
And I'm proud of our new initiative with Digital Royalty, a series of Google+ Hangouts called Uncovered, focused on fostering an open and honest dialogue around female-centric topics that would sometimes be considered taboo. Our first hangout, Uncovered: Women + Body Image was this week with a powerful group of panelists: Gabby Reece, Sarah Robb O'Hagan, Sasha Digiulian, Sarah Brokaw and Liz Arch with the fabulous Julie Foudy as moderator. These women are inspiring voices and each bring a unique and important perspective – take a look!
We are excited about where these conversations around body image and fostering self-love will lead and will continue to do our part to support them.
Posted on: August 20, 2014