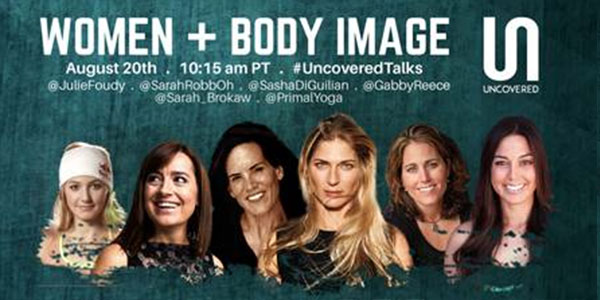 First-Ever "Uncovered" Google Hangout Tackles Women's Challenges with Body Image
The first of the Uncovered Google Hangout series for women, Women + Body Image, premiered today with a compelling conversation surrounding the sensitive topics and struggles of the female body image.

While tackling body image stereotypes and the media's perception of what women are "supposed" to look like, panelists offered a unique discussion, sharing their personal challenges with body image and offering an interactive Q&A session to participants. The impressive panel of awe-inspiring women, included professional beach volleyball star and fitness icon Gabby Reece, Equinox president Sarah Robb O'Hagan, #1 female rock climber in the world Sasha DiGiulian, Primal Yoga founder Liz Arch and Psychotherapist and Author Sarah Brokaw. Hall of fame soccer player and ESPN/ABC Analyst Julie Foudy skillfully led the panel through these discussions as well as provided advice to young girls about building self-esteem.
The Uncovered: Women + Body Image Google Hangout can be watched here: http://j.mp/1tid5Uc. For more quotes on today's Google Hangout and to learn more about the Uncovered series, follow the series on Twitter @Uncovered or join the conversation using #UncoveredTalks
Additional profound quotes from the Uncovered: Women + Body Image Google Hangout include:
"Greatness comes in all shapes and sizes and there are many ways to define it. Really, it's about getting women 20's, 30's and 40's to not only define them as who they are at that age, but to go out and develop their own personal landscape in how they gauge themselves." – Gabby Reece, professional beach volleyball start and fitness icon
"It's inspiring to see a woman completely comfortable with who she is. Strong is beautiful." – Sasha DiGiulian, #1 female rock climber in the world
"I realized that it doesn't matter what height you are or how big you are. It's about identifying what your body is capable of doing…Just get out and dance." – Sarah Brokaw, Psychotherapist and Author
"As a kid growing up, I was always called a "big girl" and it had a negative connotation. Without a doubt it's about choosing to see your body positively for its capabilities- that is beauty!" – Sarah Robb O'Hagan, Equinox President
"As we all grow, we learn that we are not our physical bodies and not even our minds and that becomes liberating because then you figure out that your self-worth and essence isn't based by a number on scale, it's by how you feel on the inside. Learning how to be really comfortable inside will translate to how you look on the outside. You will radiate." – Liz Arch, Primal Yoga founder
"For a lot of young girls, the media frenzy and the social media challenges becomes so overwhelming that maybe they don't go to inner beauty or inner strength…If you don't have a positive roll model in your life then it's about finding people around you that can be that message bearer." – Julie Foudy
Posted on: August 20, 2014