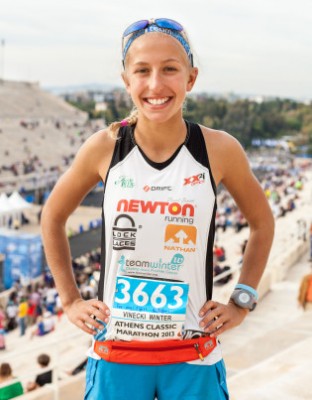 Olympic hopeful goes the distance for National Prostate Cancer Awareness Month
Winter Vinecki is constantly chasing an intangible finish line, moved in memory of her father Michael, who died of a rare and aggressive form of prostate cancer.
As September brings into focus National Prostate Cancer Awareness Month, the petite 15 year old intends to make an impact through Team Winter, a nonprofit she founded at age 9 when her father was diagnosed with prostate cancer. He died 10 months later at age 40.
For the past six years, Vinecki has made it her mission to bring global awareness to the disease considered the second leading cause of cancer death in American men, according to the American Cancer Society. Approximately 1 in 7 men will be diagnosed with prostate cancer during his lifetime.
Vinecki has helped raise approximately $500,000 to aid prostate cancer research and awareness. Proceeds have been donated to the Prostate Cancer Foundation, which recently reported the development of an oral drug that may prolong survival for patients with advanced stages of prostate cancer.
This month Vinecki is challenging others to support her cause by joining Team Winter S1X, a virtual national charity run. Participants can run or walk anywhere, anytime throughout September and track their activity using free apps available on athlete.com and invite friends and family to pledge dollars or cents per mile. Vinecki aims to run 100 miles this month and exceed last year's Team Winter S1X fundraising initiative of $30,000.
It's just one goal of many under her incessant feet.
Vinecki, who completed in her first triatholon at age 6, participated in Olympic distance triathlons throughout her childhood. As an IronKids Ambassador for three years, she advocated youth to live an active, healthy lifestyle and intended to use her racing to raise awareness for childhood obesity. But instead Vinecki founded Team Winter after her father was diagnosed.
"I knew in my gut I had to," Vinecki said. "I didn't want to do a bake sale. I knew I was capable of doing more. My running brought a smile to my dad's face so I thought I could take it to the next level.
"You have to do something big in order for people to notice and start taking action."
While paging through the Guinness World Records, she learned of the youngest person to run a marathon on every continent* and wanted get the record for her dad. So Vinecki joined the World Marathon Tour with the intent to complete her goal in 15 months.
She ran the Eugene Marathon in April 2012 — the first leg of the tour — and finished in 3 hours and 45 minutes, her fastest of all seven.
In April 2011, Vinecki set a world record as the youngest person to complete the Antarctica's King George Island Marathon. She ran in 22-degree weather, passing glaciers and penguins along the course.
The most physically demanding though was The Inca Trail Marathon to Machu Picchu, considered the toughest marathon in the world. Vinecki was the first overall female and crossed the finish line in 9:18:44.
"It was just as tough mentally as it was physically," Vinecki said. "I thought about my dad as I climbed the hills. I wondered if he was watching my race. I thought about the pain he went through when he had cancer. My running was nothing compared to that."
Last November, Vinecki completed the final stage on the original course of Phidippides in Athens, Greece in 4:03:53 and set the world record as the youngest person to complete a marathon on every continent. Vinecki's mother Dawn Estelle ran every marathon with her.
"I look back at pictures and think about doing it all over again," Vinecki said. "It was such a fun experience going all over the world to spread awareness about prostate cancer. And it was an incredible feeling to be able to accomplish the goal I set five years back."
Vinecki donated her first-place trophies to individuals affected by prostate cancer, including Michael Milken — founder and chairman of the Prostate Cancer Foundation and a prostate cancer survivor — who received her 2010 Ironkids National Triathlon Champion trophy.
"No words can express sharing the experience," Estelle said. "I'm more impressed than surprised by her ongoing accomplishments.
"Her ability to be so well rounded, inspire generations young and old and to be a role model to so many is remarkable."
Vinecki prepared for the seven-marathon challenge while simultaneous training for aerial skiing. The Winter Fly Elite Freestyle Aerials Team in Park City, Utah, sponsors Vinecki as a 2018 Winter Olympic hopeful. Vinecki's placed fifth at the Junior World Freestyle Championships Valmalenco, Italy, this past March. She aspires to compete in South Korea in memory of her father.
The sponsorship required Vinecki to move away from her family in Salem, Ore., to Park City, Utah, in August 2012. She lived with a host family a first year and a half before moving into a leased house with an older teammate.
Daily Skype sessions with her mother and brothers make her feel less homesick. She likes to while she chats so they have a virtual dinner together.
Vinecki trains up to five days a week, up to five hours at a time. And between sessions she participates in virtual classes online through Stanford University Online High School, online independent school for U.S. and international students that she's been enrolled in since eighth grade. She hopes to attend Stanford University after she graduates in 2016.
In addition to learning about Spanish, English, biology, government and pre-calculus, Vinecki also has physical education course on her schedule, for which she submits her training schedule.
As busy as she is training and studying, Vinecki's priority remains at the forefront. She thinks of her father often. Living for a cause brings a smile to her face.
"My dad was always smiling. Whether I'm having a good or bad day, I always find something to smile about. I'm here, I'm living, and I want to enjoy life," Vinecki said.
"One of my main goals is to get a blue ribbon out there to match every pink ribbon to hopefully get Team Winter as big as the [Susan G.] Komen foundation one day so we can hopefully find a cure for prostate cancer."
For more on this story, please click here.
Source: usatoday.com
Posted on: September 9, 2014