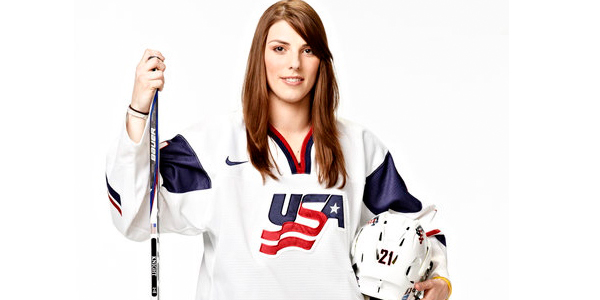 U.S. women's hockey team sets great example
BIDDEFORD – Courtney Kendall and Samantha Scobee stopped talking. Suddenly, what they were watching Saturday on the ice at Harold Alfond Forum was more important than anything else.
One nudged the other. See that? Incredible.
Hilary Knight of the U.S. Women's National Team and two of her linemates had just passed the puck six, maybe eight times, within seconds. Hockey stick to hockey stick to hockey stick. All done on a small patch of ice marked off by small orange traffic cones.
Kendall broke the momentary spell. "I'm sorry. What was the question?"
USA Hockey came to Maine this week to set up a four-day evaluation camp at the University of New England. It's mission? Continue the process of winnowing out the candidates for its next national team. About a dozen players off the 2014 team that won silver in the Sochi Olympics joined about two dozen new hopefuls for a Blue-White scrimmage on Friday night. Another intra-squad scrimmage will be played Sunday evening, and a third Monday morning.
Saturday was set aside for practice. Kendall and Scobee, both junior goalies on the UNE women's hockey team, had practically camped out at Alfond Forum. If the national team was in the arena, so were they, soaking up sights and sounds. If there was a moment or two to interact with the elite players, all the better.
"They're real people," said Kendall. She and Scobee helped monitor the autograph session with the public after Friday's scrimmage. "Some of them are our age. They're still kids, but they portray this confidence."
Kendall grew up in Waltham, Massachusetts. Scobee is from Minnetrista, Minnesota, west of Minneapolis, and played against national team candidate Milica McMillen of St. Paul. Scobee idolized two-time Olympic silver medalist Gisele (Gigi) Marvin from the tiny north Minnesota town of Warroad.
Like most hockey players, they were in kindergarten when they first wanted to chase a puck. Scobee was 8 when she decided to be a goalie. "Mom sent me to practice with a Post-It note on my helmet. If Sam gets hurt, call this number."
"They're so humble," said Scobee. "They listen when you talk to them. They want to know you. If we could get on the ice with them, it would be one of the best experiences. It would be so rewarding to make a glove save. I'd just keep my hand out there a moment longer. Yes. I did it."
Scobee and Kendall were letting their imaginations go and that was the point. USA Hockey chose Maine and UNE to further expose women's hockey and help it grow. It's not a public relations ploy.
If Knight or Marvin or any of the others can foster a dream in a young girl's mind, it's an endorsement worth more than the money elite female hockey players see. At least not in any real quantity. Players in the Canadian Women's Pro Hockey League aren't compensated by their teams. They're paid training expenses of up to $2,000 a month by their national associations.
The elite players compete for that quaint ideal called love of the game.
"It's an honor and thrill to put on the U.S. jersey," said Knight, 25. She helped lead Wisconsin to an NCAA championship in 2008 and held most of the scoring records when she left two years later. "I want to be part of something that's bigger than me and this is it."
She craves competition, not attention, although she did appear in "ESPN the Magazine 2014 Body Issue." People do ask her to pose for photos when she's wearing far more clothes. "Your career is only so long. How many times is someone going to ask? I like to shatter the stereotypes."
Knight has been on the national team for seven years. Months after losing the gold medal in Sochi, the moment still hurts. "It was heartbreaking. Silver is not good enough."
Marvin has played at the elite level for 10 years. She's 27, and also yearns for a gold medal and ignores the calendar. "The Olympics aren't every four years, they're every day."
Being an example is part of her faith. "I compete for an audience of one," she said at the team hotel in Saco. "Pleasing God is my reward. If I please Him, everyone will be pleased."
She looks forward to talking to college players like Kendall and Scobee. She loves talking with children.
"You work so hard," said Knight, "and all of a sudden you're able to give back. I almost feel like an anthropologist, showing the world what it means to represent U.S. women's hockey."
Kendall and Scobee understand. "Hockey is a culture," said Kendall. "It's family. Hockey is an escape."
Posted on: September 25, 2014