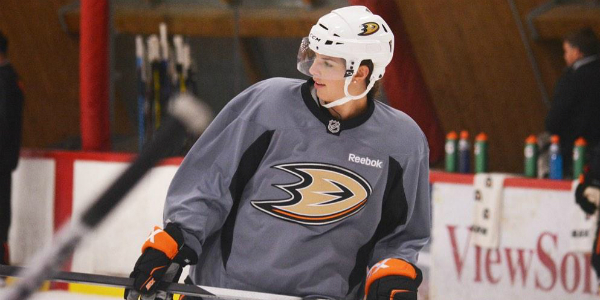 When Hilary Knight Practices With The Ducks, People Take Notice
By Susie Arth | Oct 3, 2014
Hilary Knight has said she wants to be a player you have to watch. On Friday, she was all that and more.
Knight, a two-time silver medalist with Team USA, practiced with the Anaheim Mighty Ducks and caused a Twitter tremor. It's no wonder. According to a release by the team, the 25-year-old Knight "is believed to be the first female skater (non-goalie) to practice with an NHL team."
I'm kind of emotional about @Hilary_Knight practicing with the @AnaheimDucks. I'm going to hashtag #girlpower and not even be sorry.

– Darci Miller (@darcisays) October 3, 2014
Hilary Knight is an NHLer for a day! How sick is this?? Stay tuned for more! PC: @AnaheimDucks, @icemancometh pic.twitter.com/MdRNYPe1wn – Women's Hockey News (@WoHoNews) October 3, 2014
And that was before the 5-foot-11, 172-pound forward who is known for her epic workouts hit the ice.
Seeing @Hilary_Knight on the ice with the #NHLDucks was awesome. pic.twitter.com/Pj2NsrDRlx

– Kyle Shohara (@kyleshohara) October 3, 2014
breaking news: @Hilary_Knight is the best person in the world, possibly universe? – Jenna Vinson (@thejennavinson) October 3, 2014
Knight was invited to the Anaheim practice to promote "World Girls' Ice Hockey Weekend," a global initiative that aims to get girls to try the sport. The 2014 edition is scheduled for Oct. 11-12.
Prize-winning photo of new Ducks forward Hilary Knight. pic.twitter.com/CKF8cbkkPw

– Greg Beacham (@gregbeacham) October 3, 2014
Wonder if Bruce Boudreau will use @Hilary_Knight on the #NHLDucks power play? pic.twitter.com/Kk6L3ACGPr

– Eric Stephens (@icemancometh) October 3, 2014
#NHLDucks Boudreau, after just stepping off the ice: "Tell you what – [@Hilary_Knight] has a great shot." pic.twitter.com/lITjBdF2z8

– Anaheim Ducks (@AnaheimDucks) October 3, 2014

For more on this story, please click here.

Source: espnW.com
Posted on: October 3, 2014