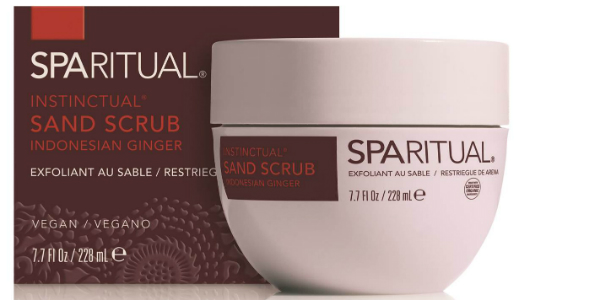 Posh Beauty Blog's Guide to Exfoliation
SpaRitual was featured in Posh Beauty Blog's Guide to Exfoliation today. Here's what they had to say both on the subject of exfoliation and on SpaRitual's Instinctual Sand Scrub:
By Carla Snuggs
Recently, in Posh Beauty Blog's Fall Skincare Guide, we discussed that fall is great time to exfoliate. Start the season right with an exfoliation treatment to polish away dead summer skin. Skincare products are better absorbed and can work as intended when applied to a smooth canvas.
To learn about the various ways you can exfoliate this fall, we tapped Dr. David Bank, Board Certified Dermatologist, author of Beautiful Skin: Every Woman's Guide to Looking Her Best at Any Age and Founder & Director of The Center For Dermatology, Cosmetic & Laser Surgery in Mt. Kisco, NY. Here is Dr. Bank's guide with different ways you can exfoliate.
EXFOLIATE to CORRECT DARK SPOTS
Dark sunspots, as the name implies, are caused by accumulated sun damage. They can be removed by using exfoliating agents such as Retinol, Glycolic Acid or Lactic Acid or bleaching agents such as hydroquinone. The important thing to remember is to always wear sunscreen and try to stay out of the sun so they don't come back.
EXFOLIATION FOR ACNE PRONE SKIN
Look for cleansers with salicylic acid, glycolic acid, benzoyl peroxide or sulfur. These ingredients will gentlyexfoliate skin while removing bacteria and dirt that can clog pores and form acne.
EXFOLIATION FOR ANTI-AGING
Look for cleansers with alpha-hydroxyl acid, vitamins A, B, C and E, and green tea extract. They will exfoliate skin, removing dead skin cells and help new cell growth while repairing skin damage due to environmental assaults.
EXFOLIATION FOR SENSITIVE SKIN
Exfoliation is important even for those with sensitive skin. Products have been engineered to be less irritating and have softer mechanical exfoliators. Polyhydroxy acids, lactic acid, glycolic acid and citric acid can all be used on sensitive skin. Neostrata bionic face cream, gentle cleanser mixed with baking soda, or Origins Modern Friction Nature's gentle Dermabrasion are all great products.
EXFOLIATION FOR DRY, CHAPPED LIPS
If you want to exfoliate the dead skin from dry, chapped lips, use a soft bristle tooth brush or a washcloth. Aquaphor or Vaseline can be used to improve the dryness also Burt's Bees Replenishing Lip Balm with pomegranate oil is a great option.
HOME REMEDIES FOR EVEN, SMOOTH TEXTURE
Dr. Bank suggests using an at-home peel to exfoliate the skin 1-2 times per week. If you're looking around your house for ingredients to use, coffee grounds, oatmeal, egg white, mango, papaya (other fruit), aloe, salt and sugar scrubs work well without stripping or irritating your skin.
PHYSICAL VS. CHEMICAL EXFOLIATORS
Physical exfoliation basically means removing dead skin cells physically like with a scrub of some sort. You need to be careful when physically exfoliating because some people have the tendency to go overboard. This can result in small tears in the skin and even break capillaries on some faces. Chemical exfoliation means that you are using enzymes or other agents to get rid of the dead skin cells. The most common forms of chemical exfoliation are lactic acid, glycolic acid, malic and tartaric acid.
Spa Ritual Instinctual Sand Scrub
Made of Ginger Essential Oil that nourishes and moisturizes the skin. A blend of fine grains of white sands from Bora Bora and Rhyolite formed from volcanic magma helps eliminate impurities and dead skin cells for a luminous complexion. Moroccan Argan Oil leaves the body feeling renewed and beautiful ($49, SpaRitual.com)
Posted on: November 12, 2014